Dog Saving Another Dog

Philippines
6 responses

• Australia
23 Oct 11
It simply shows that dogs do have feelings and too can act like people too. When their friends are in danger, of course they would jump out and try to save them. Some dogs are fearless whereas some are not very daring. I remember watching the Dr Harry show in which this younger male dog could never leave the side o this older male dog. Both of them were like best friends and the owner could never separate them. They tried locking the younger dog in the house and bring the older dog outside. Guess what happened, the younger dog got all stressed and it leaped out of the window. See how dogs make really good companions to not only people but to other fellow canines!

So animals do have human qualities.

• Philippines
23 Oct 11
I have not seen it yet. I have a friend who has two cute puppies, it seemed that those two puppies love each other. Dogs are so affectionate like human they love to show how they feel to a certain thing. I am pretty sure that the dogs of my friend will be like the same to the dogs who save another dog. I do love dogs especially my Dora.

• United States
23 Oct 11
I haven't heard or seen this video yet. I do like dogs already, so it would only strengthen that liking :). I will have to check it out though. It sounds pretty interesting. Dogs can be amazing sometimes.

• Philippines
22 Oct 11
I had heard the news about a dog who saved his fellow dog maybe that was in japan after the tsunami. The news said that the dog is helping the injured dog that it never left it and gave it some food. I think this dog love his fellow that you can't imagine a dog who can do this. He is a real hero but i don't think if they survived.

• India
22 Oct 11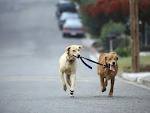 Dogs or animals are more attached to their community,not like humans.Human like to see if another human is in problem,but animals do like saving or protecting themselves and their friends.

• Indonesia
22 Oct 11
Hmmm... I just see the dog being loyal and stay with his friend in the Japan accident. Dog is the number 1 loyal animal. I am dog lover! :D