apple vs android vs windows vs blackberry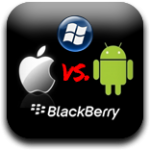 Indonesia
October 29, 2011 7:16pm CST
we know that those 4 vendor are very popular in the mobile's phone world. they always compete and try giving something new and will make customer interested in their product. since android just come to mobile phone's world, but it has so much customer in a such short time. but in the future, who do you think the one that will dominate the market and mobile phone's world? who will be the winner?
2 responses

• Indonesia
30 Oct 11
i think apple gonna be the winner. now, we can see, i phone have upgrade their program, their ipad, iphone to be the best smartphones. i think it will be diificult to make apple down in the market. altough another vendor also make innovation...

• Indonesia
30 Oct 11
i thought so, but what about android? we know that android is still new, and has grown up for a short time. may be android will be a good rival for apple.


• Indonesia
9 Nov 11
what do you think about android? it support flash too