The story of two friends and the cellphone strap bell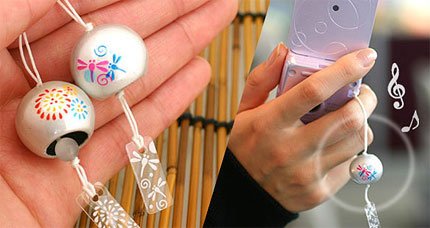 Philippines
November 3, 2011 5:24am CST
This is a story of two real close childhood best friends. They are so close to each other that people teased them as "twins". They can discuss anything and everything under the sun and one day, they discussed "Life after Death". Curious, the two friends bought matching cellphone straps with bell charm and promised that whoever dies first between them, one have to return and inform the other if there's life after death by ringing the charm. Eventually, one of them died due to a horrible accident. The cellphone charm which she considered as her most important belonging was placed inside her coffin. A lot of people attended her funeral: Family, friends, relatives, etc. When her best friend neared her friend's coffin to pay respect, she prayed and asked "Is there life after death? If there is, just do what we agreed upon". In a matter of seconds, the girl heard a soft sound of the cellphone strap ringing from a distance. She smiled and replied: "I understand"... Oddly, the bell charms kept on ringing and ringing, louder and louder to the point that the funeral area became silent and heard it. It became resoundingly loud as if it was moving nearer the area and hurried that it seems her friend is escaping from something frantically. It just won't stop. Visitors had to cover their ears just to minimize the noise. Then after a few moment, it just stopped. Worried, they approached her best friend (the living one) and was surprised that she's staring blankly and soon, murmured... "Help Me..." Are you having a matching phone charm with someone? Is it so powerful that it ties you together? Even in the after life?
3 responses


• Philippines
8 Nov 11
If ever you buy one, make sure it won't make any sound :P Lol!

• United States
17 Jan 12
That was very creepy, but I love reading these types of scary stories. I just added "urban legends" to my list of interests and I see you have posted quite a number of these. I can't wait to read them all! I have never had a matching phone charm with anyone else. I know this is just a story, but I don't think it was the charm that ties those two friends together, but the bond of friendship. I think the phone charm just happened to be there. As in, even if they never had the charms, they would still be linked because they were so close.

• Philippines
18 Jan 12
Lol thanks! I don't post much nowadays though :( I always believed that having a real close friend would always mean having a close, invisible bond that even the after life can't take away. I really don't know if I should feel amazed with their bond or feel freaked out since it's like the deceased friend is asking for help.

• Philippines
4 Nov 11
Scary! Curiosity kills the cat. If I was the living friend I may have fainted. Is this story a part of a movie or something? Somehow I remembered the movie 'phone' totally unrelated but the story is creepy as well. Have you seen that? Btw just lettin' you know that I truly love the discussions you make. They are totally interesting and even though I rarely respond and visit mylot I still read them through emails! ^^ Im a fan~

• Philippines
5 Nov 11
I think I've seen "Phone" before. Is it the one where they found a body buried on the wall? I got this story from USO?! Japan. A super old variety show where they share items and stories which are tagged as "rumors" and they check (if they can) if the story is true or not. They also share scary pictures are stories like the one I shared :) Thanks a lot for the support! That part of your comment is really unexpected and I'm sooooo glad that you enjoy my discussions :D I only post discussions which I find interested :) Please do continue to support me m(_ _)m