he knows how hold a pen!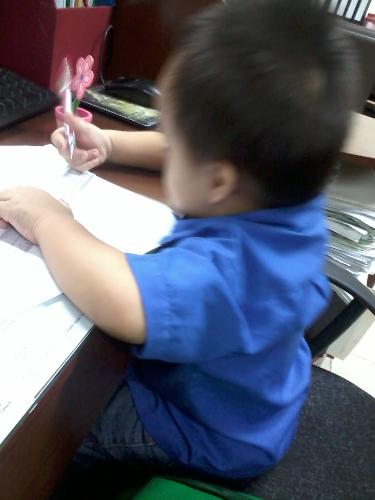 Philippines
November 20, 2011 10:57pm CST
my son, who is 1 and 9 months always sees his siblings write especially my daughter who loves to write.. so i guess that is why he took this pen and started writing too! lol he was just scribbling lines and circles and it is so wonderful to see those little fingers hold the pen and he acts like he knows how to! Everytime he sees a pen and a paper, he would sit down and write. i might a budding journalist soon!

4 responses

• United States
21 Nov 11
Isn't it great to see the baby want to follow what the bigger kids are doing? Just be careful to watch him so he does not poke the pen or pencil in his eye. (medical training kicking in sorry) If you go to the store they make some really big crayolas that are chunky and not so likely to hurt them. But still, have to watch them consistantly so they do not hurt themselves, or possibly bite one and get choked. If he is showing an interest in different surroundings like this you might take him online to http://www.fisher-price.com/fp.aspx?st=30&e=gameslanding&mcat=game_infant,game_toddler,game_preschool&site=us There are infant, toddler etc games free for the children. While I had my granddaughter here she would sit in my lap and we would play the alphabet game and she would learn to growl at the sounds and bark etc. It was so much fun! Enjoy this age its so exciting as they learn to explore!

• Philippines
21 Nov 11
1 year and 9 months old baby holding a pen and trying to write?

For sure you really feel good seeing your cute son scribbling with a pen


• Philippines
21 Nov 11
Oh, yes, they really do imitate a lot of things. Toddlers are really very observant. That's why we need to be careful on the things we do and say around them 'cause they might imitate what they had heard or seen. Your kid might also be an architect :)

• Philippines
21 Nov 11
That is really cute. That is a good sign that your son's mental capacity is starting to develop. You should give him a lot of educational books and other things that would really help increase his mental skills. I guess your son has a potential to be a good writer someday hehe.