Are you also dreaming of buying an Apple netbook or laptop?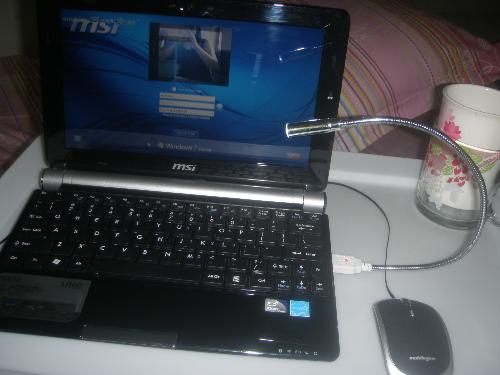 Philippines
November 22, 2011 10:31am CST
This is my dream. I already have an MSI U160 netbook. I am very much satisfied with this, but I'll not be contented if I don't have an Apple netbook. I am already saving. I have already checked its price in Amazon.com. It costs P40,000 +. How about you? Do you already own one?
4 responses

• Philippines
27 Nov 11
Excuse me. wittynet must be confused or I don't know what's on his mind about "Apple netbook". Because there are no such thing as Apple netbook. If you still thinking a netbook made by Apple, Inc., there are no such thing either. If there are really Apple netbook out there especially selling on amazon.com or in China supermarket, I have no idea but I'm for really sure it is not from or made by or a brand by Apple, Inc. in California. I think its the Apple's MacBook Air whats wittynet in mind. Don't think of it, as an equivalent to netbook model brand of computer, because it is not really an equivalent. Apple's MacBook Air is an ultra-portable model brand of computer. Yep, I have an Apple Macbook Air but not the latest. I always take and use when in need my Apple MacBook Air on holiday vacations or socializing and partying with my friends and family.

• Philippines
29 Nov 11
Hello, gjabaigar! Thank you for that information. But I swear I saw Apple "netbook" in Amazon.com. It so happened that I was working on Amazon Mechanical Turk HITs. I was planning to use my earnings in buying an Apple netbook at Amazon.com. I did find one which I really liked but I didn't save the URL because I didn't have enough gift cards yet. Let me check again if I can still find it.

• Philippines
29 Nov 11
Hello! I found one but this isn't what I like. I can no longer locate the white netbook I saw few months ago. Here is the link: http://www.amazon.com/Mini-Netbook-Notebook-Windows-Green/dp/B004SCA6SM/ref=sr_1_4?s=electronics&ie=UTF8&qid=1322550118&sr=1-4

• Philippines
23 Nov 11
has one, but I'm not getting a Mac for myself. I'm retiring me Acer laptop and I'm planning to buy an Asus Zenbook. It's one of the best ultraportable laptops I've seen and it's cheaper by around PhP 6,000 than a Macbook Air. It's PHP 54,000 for the 11.6" size. Now this is my dream laptop :)

• Indonesia
23 Nov 11
I don't want to buy Apple Macbook with the current price, however if the price goes down, i would consider buying it. But if i have the knowledge, i would like to try what this guy -> http://www.instructables.com/id/Make-Your-Own-300-Mac-A-Mac-Built-From-Macbook-P/ done to get a macbook.

• United Arab Emirates
23 Nov 11
I have an Apple Macbook and it's the best. It's good that it's not that pricey anymore, because I bought mine several years back and it cost me two thousand dollars. Some people are questioning why the Macbook apple are expensive, they said that it's overpriced. But in my opinion, it's not. It is totally different than other brands. The Operating system used is really good, it's like you're using a very high-tech device.


• Philippines
29 Nov 11
I strongly agree with you! You are correct, mariahhh! My sister has an Apple desktop. She said that she's not using any anti virus. Aside from this, she's more than satisfied with her desktop. She's always telling me that Apple is the best! How I wish she'll buy one for me but it's impossible knowing that I already have one.