Salad is the best items

Bangladesh
November 26, 2011 5:53am CST
Every body like salad as items of food. This is the common items in lunch of dinner. Hotel & Restaurant are making verities items of salad. Before making salad you have to be cut any vegetable as size and pieces. Then necessary items have to be manage and mixture on a pot, then have to preparation for meal. Regular taking salad we able to fill vitamins which is vacant for us.
5 responses

• United Arab Emirates
24 Mar 12
For sure, it is the best dish. Alot of vitamines and great taste too.

• Philippines
26 Feb 12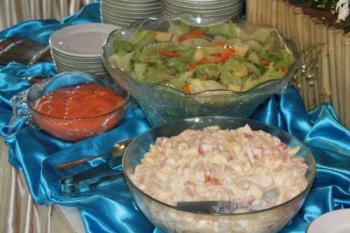 Yes, i think you are right! Everybody like salad. In every party, salad I think is the most appreciated food. I myself is so in love with salad so that I can eat just all salad the whole day and satisfied with that. I love to use all fresh ingredients to make sure my salad is really healthy.


• Chile
1 Dec 11
For me salads vary with the seasons as I buy what is in season. But every salad must have lettuce of some kind

. I like tomato from my own garden, ripened with the sun. And I also add arugule, kale, some olives and maybe some hard cheese.


• Indonesia
26 Nov 11
Salad is one of my favorite food. My mother often serves it as my family meal. There are many kinds of salad for Indonesian. One of them is "trancam". This food is common for Javanese. It is made of the small slices of cucumber, bean sprout, basil and little bean that called "lamtoro" plus young coconut spice. It tastes so fresh and looks so delicious. Emmm yummy, cheap, and healthy. The others salad is gado-gado, it is so popular in Indonesia. If you have chance to taste Indonesian food, I recommend it as your meal.