What are some exciting and interesting things about fried chicken?

India
3 responses

• Philippines
26 Jan 12
They say that fried chicken from a native chicken is better and healthier that your regular fried chicken from a white breed chicken!..... I dont know if you got what i just said... anyway good luck with your presentation!

• Philippines
15 Dec 11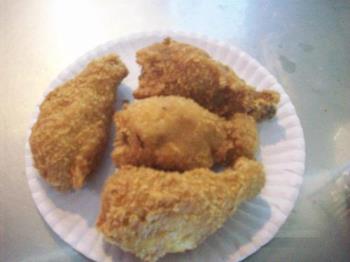 Speech on fried chicken? This is something new! I've never really heard anyone speak about fried chicken expect a chef whose specialty is fried chicken. At any rate, I think fried chicken is a common favorite dish to many especially to children. I think this is just as popular as spaghetti and in fact it is a matching combination of pasta in most cases. Fried chicken is however not healthy especially those cooked in fast-food because they don't use healthy cooking don't they? Apart from that the crispy skin of the fried chicken which we really so love about the this stuff is another unhealthy factor because it is cholesterol and no less than cholesterol. What more...well this is no longer relevant but do you know that i always misspell fried chicken? Instead of fried chicken I always type it friend chicken and this I do in this post of mine for more than five times.


• United States
29 Nov 11
haha should I even ask why you're doing a speech on fried chicken? But in answer to your question, friend chicken is thought to be an American food, typically backwoods, or redneck, but friend chicken is cooked and eaten all over the world, including places like Australia.