Important tips of heart attack!!!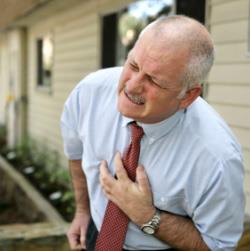 Philippines
November 28, 2011 7:42pm CST
How the person survive heart attack when alone? when person going home alone after unsually hard day fo work when person really tired upset and frustrated. when experiencing severe pain at hes chest that start to drug out into his arms and up into his jaws, his only 5 miles from the hospital nearest at his home. Unfortunately he'll not able to make that far,he have been tried CPR,but he don't know ofcourse to perform his self. These are the tips how to handle heart attack when alone. the victims can help theirselves by coughing repeatedly and very vigorously. a deep breathe should be taken each cough,and the cough must be deep and prolonged,as when producing sputum from deep inside the chest. should be breathe and cough repeated every two seconds without let-up until helps arrive,or until heart beating to normally again. when deep breathing get oxygen into the lungs and coughing movements squeeze the heart and keep the blood circulating. The squeezing pressure on the heart also helps it regain normally rhythm. On that way,heart attack victims can get into a hospital.Don't ever think that 25 or 35 nowadays due to change our life style,heart attack is found on all people on all age groups. This is good for those people who has suffering heart attack symptoms!!!
3 responses

• Philippines
29 Nov 11
hello there.i am a nurse and i have been practicing the profession for three years now. the Cardiovascular system is my forte and i do not seem convinced about the remedy you are talking about. when a person experiences symptoms of heart attack, he or she can no longer think logically because of the anxiety he or she feels. the best thing for him to do during an event of heart attack is to seek for help immediately.find a person near to you and ask for help for you to be brought to the nearest emergency center. and to add to that, a CPR will not help during a heart attack, except of course if the patient is not breathing.

• Philippines
29 Nov 11
i know people feels anxiety when they feels sign and symptoms, but its good for them to read about some helpful tips, i think not all people feels anxiety when they have an attack, i am a health care provider also...and i know CPR can perform without breathing and pulse. thanks for the comments.!!!

• Holiday, Florida
29 Nov 11

thanks. i think ive read it before but its good to be reminded once in a while. i think i might not remember when it really counts. i sure do hope i do. also, my aunt said they gave her baby aspirin to chew on to help regulate the blood flow,


•
29 Nov 11
Hmm , this is great for some people to pay attention on this problems . And we should take this serious because this disease is more and more common now . Great discussion !