... 13 years ago...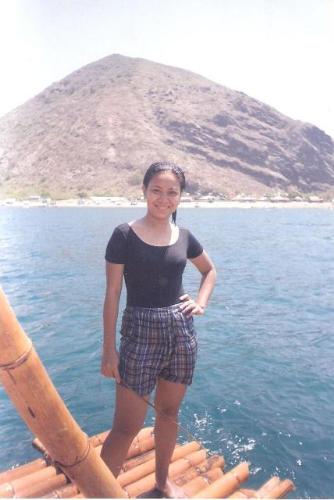 Philippines
December 12, 2011 2:47am CST
13 years ago, I'm a working girl (I'm a full-time mom now). I'm living on my own 13 years ago, with a shared (girl) friend, a co-worker too. But I do visit my parents every day-off's. Single at 25. Carefree! I have a waistline of 25-26 inches back then (now it's 28-29 hmmmp!). I think I'm sexy that time *LOL (just being conceited hahaha) Hubby then was just a co-employee. He has a girlfriend 12 years ago (not me!) a co-employee too. Not expecting that he is the one for me *LOL. Just looking back! How about you?.. what you do.. what you're into.. how you look like years years back?... care to share!
8 responses

• Philippines
12 Dec 11
Me, 13 years ago. hehehe. I'm still 5 years old at that time. I'm still very young. I'm so small, and still thin. I wanna go back that time. Before I've entered school. So that I can change the mistakes I've done before. I've been a lazy student. But I think I'm still happy of what I am now. It's great.

• Philippines
13 Dec 11
Much younger than fsuma... at 5...still a baby! I have a son turning 5 by March next year. Just like your age huh... Well, mistakes done on a positive point of view is really have a share why we became this and that! I've been a lazy student too but it's okay, I just learned my lesson for the next time. You have so many many years to make your life a success. Give your best shot as times goes on. Don't go back!... just look back, okay rusale?! At 18, you're still so young! Happy to see you here in MyLot! You can learn so much being here. Stay put!

• Philippines
12 Dec 11
Hi Lhenni! Your story is very nice. I hope I can also have that kind of story when it's the right time that I'm gonna have my partner. Hahaha... I wish. 13 years ago, I was just 12 years old. Gosh! I can't think of any special things that happened to me that time except for my grade 6 graduation. I was sort of happy during that time since I'm one of the graduates who receives honors in our school. I was also busy in our glee club wherein I performed all sorts of the lead character. I think that's it. Thank you so much! Hehehe

• Philippines
13 Dec 11
Wishing your wish come true mah'friend! You were an achiever and very talented huh! I envy you! You're the one dabarkads hahahah! Gosh, you're just 12 then and I'm in the prime of my singleness that time! I'm really that old?! uh uh! Glad i'm young at heart hahahah! Happy day!

• Philippines
13 Dec 11
Hi Lhenni! It's okay. Do you want to know why? Your age does not show. You look so young at that age. I wonder if what are your beauty regimen. Hahaha... What's dabarkads? Nerd? Hahaha.. I wish I am but I'm not that type. I was also into sports before. So there!

• Philippines
12 Dec 11
Well 13 years ago I looked so thin. The older guys are telling me I looked like a grade school. They were pinching my cheek and I really hate it

Those were the days when you're waist is still small but I do think 28-29 is not so big. Congrats that your waste didn't get big like other moms.

• Philippines
13 Dec 11

When I'm so thin, some says I look okay 'though I don't look like my age. But some girls from my past place says I am a stick

Oh well they're just jealous

So from then I tried to gain some weight.. now I think I overdone it so I have to watch my weight now, coz my waistline is getting bigger too.

• Philippines
12 Dec 11
Well, i have seen your attached picture 13 years ago. I must say that you have a certain glow in youf face now. Maybe it's the mother's glow. I must congratulate you because you have maintained that nice figure, my friend. I think as for myself, i am now a bit fatter than when i was 13 years ago, but i like it. The added pounds made me sexier.


• Philippines
12 Dec 11
13 years ago...oh well, I've given birth to my youngest son. I was the same figure after that birth- having small waist and smaller size dresses..hehehe. I started gaining weight I think 3 yrs ago and now I am battling with it..duh! Well,yes, I found it sexier to add a little bit pounds



• Philippines
13 Dec 11
Your youngest is quite big now huh! Good for you! But for me, that's my dilemma, evertime I gave birth, and months after, I gained so much pounds, but that's okay, I learned to accept that hahaha Yes, I found it sexier too, to gain a little bit pounds... and a little more... and more *LOL Happy Tuesday jaiho!

• Indonesia
12 Dec 11
13 years ago, it means in 1998.. iam still in class 3 of senior high school iam football lover, no girl in my life in that time.. and i always paly football in every afternoon after the additional class.. my favourite football player is Gabriel batistuta

• Philippines
13 Dec 11
You're a football lover, adhyz! That's great! Here in my country, football just recently been famous playing here and go international. Recently too, David Beckham and his group were here in our country to fight our Azcal's pride, our first Philippine football team. Sad, we lost. I love my 2 son to be on football when they start studying at school. I'm starting to find them school with football field... and I found one! Happy Tuesday adhyz!

• Philippines
12 Dec 11
I like your flashback in life, Lhenni. I wish you more success and happiness to come. If applied to yours truly, 13 years back is 1998. It was a fruitful and eventful year for me because I was still then in the prime of health and rendering fruitful services to the government as an employee. Having fathered children who are now grownups and raising their respective families, I didn't relinquish my duties of counseling, rendering moral support to them. In the year 2001, I retired working from the government. a year later than my wife who was a public school teacher. Now we're both enjoying our retirement life, overseeing the well-beings of our children and grandchildren. We guide them to tread the path of righteousness so that they'll not become burden to society. Despite the age, I am very proud and so with my offsprings that I learned a little technology of the computer and internet. That's why I am actively engaged here in MyLot.

• Philippines
13 Dec 11
Oh my Math *LOL... maybe I'm already in 2012 hahaha that's why... Well, truth is, I'm confused if my picture was then shot 1998 or 1999 *sigh... dementia syndrome pity me! Nice to hear your story nicanorr. I want also to teach my children to tread the path of righteousness not to become a burden to society. I have 3 kids, ages 10, 4 and 2. It's a long long way to learning, and yes I'm starting! Happy MyLotting nic!

• Denmark
16 Jan 12
13 years ago I studied German at university. I had just met one of my ex-boyfriends and in the weekends we usually visited the pubs and the discos in the city where we lived. We spent a lot of time at a place called "International house" where we met people from around the world. At that time my parents were hostfamily for an exchange student from New Zealand and her and I spent a lot of time together. 13 years ago I had blond hair instead of red hair (I dye my hair today) and I was very skinny. I am not especially skinny today