My experiment works, but will never go through with it again!

Philippines
December 19, 2011 3:26am CST
Okay guys here is the thing last time before I started my little experiment with the no meat diet my actual weight is 190 lbs when i weighed myself a day after i posted my no meat experiment so now i am a wopping 186 pounder to other it might be nothing much but for me it means a lot. Ive been fighting to get down to 180's for the longest time sometimes I win but I just get it back after a few days ( the 190's weight that is). So now i know that this no meat workout works I suggest this to some but not all for me 1 and a half week is already okay for me I'll just limit my meat to dinners from now on. So guys hope that all of us can get on the health wagon. I missed pork so baddllyyy...
3 responses


• Philippines
19 Dec 11
hey wittynet yup i eat brown rice my staple is actually white rice but brown rice gives more nutrients and fiberry so I took an advice from Mike Chang from sickpackabs.com and now i only eat brown rice and only at lunch. I'll wait for that tip... thanks wittynet.

• Philippines
19 Dec 11
You can limit your rice to half cup every meal. I have been doing this for three months now. I have lost more than 20 lbs. I am not actually fat, but in my last annual check up, I found out that I'm already overweight, and my cholesterol level is high. Just last week, I had a check up and the doctor commended me for a job well done. I'm no longer overweight, my cholesterol level is back to normal. Because I'm already used to half cup rice every meal, I'll continue with this. I can live without meat if I have enough fruits, sea foods, and vegetables. The problem is they are very expensive compare to meat. And because I'm just renting a room where cooking and washing clothes are prohibited, I can't prepare a good diet. I always buy cooked foods.

• Philippines
24 Dec 11
Yeah, giving up pork even for a while is quite hard. But I think to be really healthy we just have to balance everything out.

We can still eat meat but just in moderation, more water and fruits and vegetables though..

• Philippines
20 Dec 11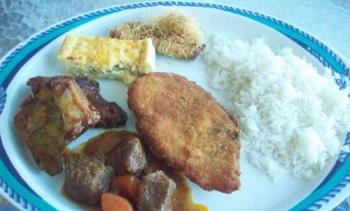 I guess it works differently to different people. Some people eat meat a lot and yet they do shed this off through exercise so they don't really grow fat. I myself is no pork eater but I would gain weight if I eat more more than I should. I guess it all depends on just enough food for my need and never to forget my daily workout.