Eating pattern that influence healthy lifestyle

Indonesia
December 19, 2011 8:24pm CST
As we know that Eating has become a part of our daily lives, but question raised on how healthy our food we had taken..sometimes the answer is always easy, because of are hungry or enjoy eating what we like.. So some people treat eating like a hobby, they eating anything they like to make life happier without concerning on how healthy the food and calculated how much the content of nutrients in food consumed. Actually, eating healthily become a vital necessity for our body needs energy every day. Eating healthy is not just a meal, but also consider the intake of foods that provide an important role to keep fit and healthy. Even we keep our look healthy and staying healthy is a job to do every day. There are some things you can do to always look in the best circumstances. Some people prefer healthy way of life by measuring the levels of calories in food, eating healthy eating plus exercise regularly.How about you ? How do you measure and ensure you stay healthy all the time? How is your eating pattern concerning the healthy lifestyle?
8 responses

• India
11 Jan 12
I started out to be choosy and eating only attractive and tasty foods nd ignoring all kinds of nutritive foods.I eat a lot of junk foods.This became as a pass time.I eat not only when I am hungry but also when I sad,When I am happy and loads of other things.Guess what,I became a huge elephant.Right at that time,I entered my medical college and realized the importance of nutritive food and healthy diet.I still do eat lot of junk foods,but compensate them with exercise to weed out the fat supplemented with all the necessary nutrition.


•
20 Dec 11
I do care about my eating habbit sometimes but I just take a lot of sugar, salt and fat for most of the time. I think focusing a lot on the nutritional value of the food might help to maintain a healthy body, but it also depends on a lot of other factors such as the amount of exercise taken and the gene of the person. Therefore, even if one person take great care on what he eats, he might still end up with heart attact or diabetes.

• Philippines
20 Dec 11
Yes i agree with you, eating pattern must be follow for us to be able to maintain our healthy life. I am also very aware of my health because I want to live longer. thanks for this reminder.

• India
20 Dec 11
My pattern of eating differs according to the situation. I never stetted a particular pattern of eating in my life, but when i was in my college days i used to go at gym and at that time i was very health conscious. I had a particular pattern of eating. My schedule was once i came from the gym i used to drink lot of water and then take little rest. Through out the day i used to drink lots of water. The basic aspect is to drink at least 3 liters of water everyday. My lunch and dinner was as follows i cut down all the junk foods and fried things all i consumed was rice and vegetables, and eat lot of fruits. This was my schedule in college days, now when iam on a job, I hardly think about my intake of food because my work is mostly like sitting on computers and all. I get hardly anytime working out on my body. So concluding on the topic that's the part of my life style.

• Philippines
20 Dec 11
I am always conscious of how i can be healthy. Hence, i cut on my rice intake, take more fish and see to it that for every meal i have veggies to go with my viand. Then, i see to it that i drink at least 8 glasses of water. Though, i am sad that now that our working hours is until 7pm on Monday and until 6:30 from Tuesday to Friday, i don't get to exercise after office hours anymore. The moment i arrive at home, it would be a little rest and then eating time after. I just compensate it by walking around the mall , where our office is , after taking my lunch.

• Indonesia
20 Dec 11
iam sure that three main fctor cause many diseased in our body 1. about eat pattern and our life style.. 2. exercise regularly.. 3. stress because work load or maybe life so you can conclude that how the eating pattern can kill us if uncontrolled.. many doctors always ask, before giving the recipe always ask how about our eat pattern?? is it good or what?? it show us that for doctor, the eat pattern is the first sign he can cure his patient.

• Philippines
20 Dec 11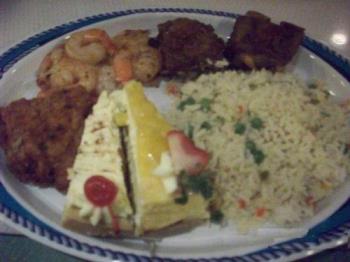 Yes I agree with you that eating healthily is a vital necessity. I am a healthy eater. I don't just eat about anything so you can never see any unhealthy food set on my table. I totally rule out pork, all kinds of processed food, soda drinks, and junks. My family eat more veggies and fruits, fish and white meat once in a while. We do eat beef once in a while but not really a lot. I don't really measure the number of calories in food I just make sure that I eat just enough and do daily exercise.