guitars..

India
December 20, 2011 1:09am CST
It's so ausm and cool to see someone playing a guitar. I bought my guitar a few years back along with my friend and we started our lessons together. He picked things so fast and i was left behind. I was learning my basics when he started playing cool song i was devastated. then do i know learning a guitar as a beginner is not as cool as watching someone play. He tells me he used to practice almost an hour each day no wonder he is so good. I just found out i want everything simple and it's never to be.
3 responses


• Australia
20 Dec 11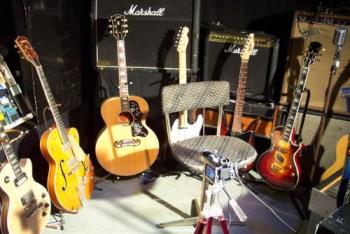 I have a friend who has his own home studio and he can play just about every musical instrument, but his guitar playing is where he excells, it has been said he makes the guitar talk, I recently helped him do all the music on a friends cd and I was amazed at how all the different tupes of guitars made the wonderful music...

• Philippines
24 Dec 11
hi abhi don't lose your cool on learning the guitar, actually it's a very complex instrument that takes a long time (actually it depends upon you) to master, ergo the most vital key for you to achieve that goal is PATIENCE, if you don't have patience you'll be most likely to be unsuccessful with your goal. practice time is also one factor, there is actually no timetable for learning this instrument but practice really makes "killer" not "perfect", which is so true.

and also another is DETERMINATION. use that friend of yours as your inspiration, that one day will come that you'll be a much greater guitar player than him.