An amazing person

United Kingdom
December 31, 2011 7:59am CST
There is a Canadian man who is called Mitch St Pierre and he is in a yellow wheelchair and he has amazingly traveled to 40 different countries. He likes helpful people on his travels that are willing to assist him. He is keen on human rights and making the world an easier place for disabled people. Have you ever heard of him? Do you know about any person that amazing in a special way?
5 responses

• Malaysia
3 Jan 12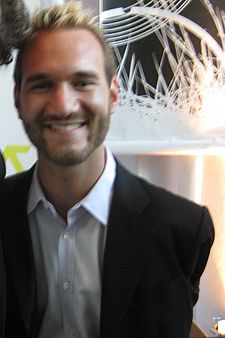 Hi! Yeah, I heard about him before, he is rally a great person where he is strong regardless of his disability. People who are normal and rich should do like he does. I also know another person called Nick Vujicic who is an Australian preacher and motivational speaker born with Tetra-amelia syndrome where he doesn't have hands and legs since born. But he is so successful as a motivator where he can shows others that someone can be successful even they cannot live like a normal people.


• Bulgaria
31 Dec 11
definitely not for the first time I hear about this man and this is very nice. because few people who defend human rights and in a wheelchair it good for this man my congratulations to him. this is a good news on the eve of such a nice holiday. I wish you happy new year meeting let it bring you good health love luck. and whatever your heart is in you hands. nice day!

• Russian Federation
31 Dec 11
Hello, maximax8:) omg, what a great person!!! I haven't heard about him .