I talk 2 my Bird ... Do U?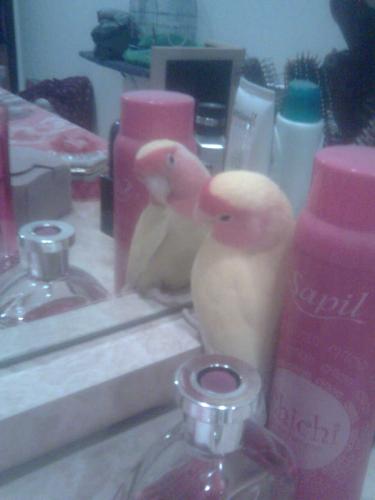 United Arab Emirates
January 15, 2012 6:51am CST
I always talk to my little bird (cloudy), I tell him about how my day has gone, about the things I hate, about the music I love. I somehow believe he understands me.. Do you talk to your pets? I think it makes alot of difference between the relationship. I know that cloudy understands everything I say to him.. He comes and comforts me in his own sweet way, or at times even shouts at me... It is so amazing that animals understand us so much better, why cant humans?
4 responses

• Canada
16 Jan 12
I talk to all my pets i dont know if they understand of not but they make great sounding boards when you are having a bad day and need to rant plus my bird talks back and gives me kisses

• United Arab Emirates
16 Jan 12
Awwwww your bird talks back and gives you kisses, that is truly amazing! I love when they show their affection in any special way.. Some pets learn the same behavior as humans, but some pets have their own individual way.. My cloudy (bird) is very arrogant, he likes to do his own way at his own sweet time that could be anything and everything.. But when he realizes that I am not paying attention to him.. he comes near me by hopping, thinking I will give him a look but I completely ignore him and then he hops on my tummy and slowly comes over to my shoulders and then he pecks with his beak.. its just so cute :D

• Canada
18 Jan 12
birds are so intelligent mine blow's me kisses across the room to tell me she wants out she will also call me a pretty bird if she really wants something she is quite a goof! lol


• Philippines
15 Jan 12
I do talk to my dog. Sometimes I even scold him if he's done something bad and he reacts by whimpering. I don't know, but for some reason I know he understands me. I guess most pet owners think of their pets as human-like in a sense. I mean, we treat them the way we treat people. I've never been a bird owner, and I'm amazed that they could do those things. I've seen it happen in the movies though :)

• United Arab Emirates
15 Jan 12
I am glad that you treat your dog like a human!! because I dont find my cloudy any different than I am .. he is my little baby, my world, my everything!! The deep connection we share with them can not be imagined, and i feel happy to read you share that with your dog, i hope it becomes even more stronger! Well not only in movies, but in real my cloudy does some amazing things which always makes me wonder is he really a bird? Like I never told him not to sit on the bed sheet, I am not a professional trainer and I have never tried to train cloudy.. he learned everything by himself.. Okay so, he never sits on the bed, because He knows that I wont like it.. its so amazing because he sits only at those places where he knows I wont object :) I love him so much :D my little angel! Thanks for ur reply, do post picture of ur cute dog, would love to see him!!

• United Arab Emirates
15 Jan 12
hehe ya cloudy is very special.. I found him when he was just few hours old, left to die on the corner of the street! And I have raised him since then.. Its truly a miracle.. and I thank God for letting me go through that street that day just because I had forgotten my wallet in the store.. :D .. I didnt find my wallet, because I never went to the store when I saw cloudy lying in the corner with his eyes not even open yet, his body so fragile and tiny.. but I dont regret it.. because Cloudy gave me more than what those dollars could have never given me!

• India
15 Jan 12
My mom often calls me mad as i talk with my tom. u know, pets always understand owner's approach. Tom reacts being sad when l scod him, reason here, last night he was missing where as i prepared his dish. Today morning, he arrived and after my scolding he admitted his guilty by meeeoooow. Lol.

• United Arab Emirates
15 Jan 12
awwww that is so adorable, cute tom!! I can imagine his reaction after you scolded him.. Ur right, when cloudy wants to at times bite me ofcourse sweetly I just give him a stern look and closes his beak back! And then I give him a little pat on his beak with my finger and I can feel he smiles!! Its so cute that even though we share completely different language yet there is so much deep understanding.. Unfortunately I dont understand why we humans fail to communicate! We all are ONE! .. we are just different so we can be identified, not like God created us different to have wars!! Gosh, How can I ever convey my message! Thanks for the reply :D.. I would love to see Tom! I love cats :(, I just wish I could have one...

•
15 Jan 12
I talk to my cat everyday, all day. I never stop.

• United Arab Emirates
15 Jan 12
Thats really cute giff! Do you feel they understand you? Is there a special sign that they do that you know they have understood you? Like my cloudy when he understands what I have told him, pecks me on my finger when I pat him on his beak :) Its really adorable!