What matters more? Learning through education or learning through playing?

Philippines
3 responses

• Philippines
24 Jan 12
Hi! As much as possible try to have it both, it would be better if you introduce both to him. You should balance them, specially he is only about to go schooling. Give him time to adjust, you cannot force him to go to school as in pure lesson but you cannot let him play all day long too. so it must be balanced, But i guess Schools nowadays do that, for toddlers or preschoolers, they teach and play so they can manage the learning of their little baby students..

• Philippines
24 Jan 12
Thanks shimi. Glad he's very excited to go in his ate's (big sister) school. I bring him in every school activities my daughter should be and he's quite ready for schooling I think. The teachers were very friendly and accomodating that he looks forward to be his soon teacher. Yes, I will let him learn on both because I believe that school can not only be a school alone but a big playroom to him.

• Philippines
24 Jan 12
For me, it's both. A child could learn in any of these ways: verbal conditioning, modeling and specific incidents. Verbal conditioning is learning through what he hears. Modeling is to what he sees and specific incidents are to what he experiences. I would be better to have a combination of learning to both education and playing.

• Philippines
8 Feb 12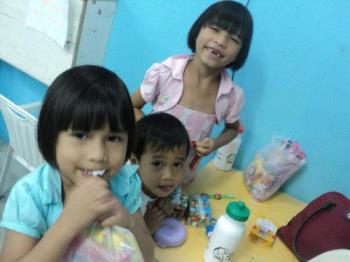 At age 4 your child normally prefers playing more than anything else. Learning through education in school is okay but learning through playing should not be deprived of him. I think at that age he should be given more time to play if that is what he prefers. Of course you can teach him how to write or how to distinguish between colors and shapes at this point but don't ever force him to learn more than what he could manage. Don't really be bothered if your child would prefer to play more rather than learn to write. That is but normal. Playing will teach him lots of things so that for ages as young as 4 I could notice that they normally just play a lot inside the classroom so it is just like paying the school fees for your child to play inside. I think playing is incorporated as part of the teaching. It teaches him how to be alert, to be patient, to get along well with kids of his age and also enhances his mechanical and technical abilities among others. Now as for me if your child refuses to go to school sometimes at his young age of 4 then you should rather just be tolerant. Give him a break when he feels he does not wanna go to school. Anyway age 4 is still to young to be burdened with schooling. He still has plenty of time in this world for schooling as he reaches age 6 upward.