Indeed a Fan or Cooling Fan is really necessary for a Laptop.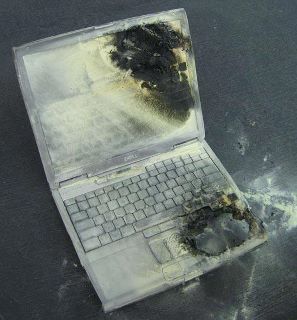 Philippines
January 26, 2012 10:12am CST
A pleasant day to all fellow mylotters, Well, I believed many people now a days uses a laptop. Because of its so many advance features, people tend to use it rather than using a desktop. Aside from that, laptop can also be use while sitting on the couch as well as in bed. Hence, it is indeed very convenient. But when working with our laptop, we should also consider some precautionary measures. Hence, we should use a fan or a cooling fan that can relieve the heat coming from the machine. As this heat might cause an injury or an incident. Thus, this is also one way to prevent any harmful effect that the heat might cause.
9 responses

• United States
2 Feb 12
I'm looking to buy one because my Toshiba laptop gets hot and I want to do Let's Play for youtube and I think it'd help keep it cool when I start recording. So that's why I'm buying one.


• Daytona Beach, Florida
30 Jan 12
I personally don't think so. As long as you use common sense, you shuldn't run into any of the problems like that. People who need cooling fans or cooling systems are people who don't move around enough. They are in front of their machines for hours on end, either working and goofing off. This causes the processor to work extra hard, in turn causing the internal fan to turn on to keep the machine cool. If you have over heating problems, then consider the fact your laptop vents might need a good cleaning, or you need to spend a little less time online.

• United States
30 Jan 12
yes a fan is good if you want to keep your laptop cool. the only time i used a cooling fan is when my laptop fan broke so my laptop would be so hot that it would shut off by it self it was getting over heated. i still use it even though i fixed my laptop fan. ii think its a good idea to buy.

• United States
29 Jan 12
Oh this is so true. I am a big gamer online and those games made my old laptop get really hot. When my fan broke, wow was I in for a big surprise, I managed to melt the hard drive because the computer just got to hot. Thankfully it is close to the tax return time and I will be able to get off my husbands computer and get a new laptop. Good thing I had already finished college or I would have been really mad at myself. The hubby laughed at me and said "guess you are getting a new computer, sweet!". Not the response I was looking for, but at least he was not mad at me.

• India
28 Jan 12
A cooling fan is present in both desktop and laptops but in a desktop it is situated at the side or back of the CPU and air passage is never blocked but this isn't the case with laptops as keeping it on bed or couch will block the passage at laptop's bottom and will heat up and can really cause severe damage to anyone near it.

• Philippines
28 Jan 12
Mostly, I used my laptop for 24hrs . Even I use it or not I just open my laptop every time I wake up in the morning. I bought a cooling fan for my laptop to prevent heating and never experience hang on my laptop.


• India
26 Jan 12
Laptops are fitted with fans and they work to reduce the heat of laptops. When the fan in laptop is not working then we must use a fan to cool the laptop. This is to be done especially during summer heat.