How many social networking sites are you apart of, and how do you keep up?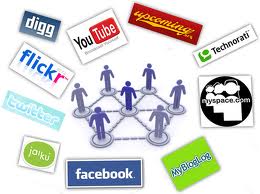 United States
February 22, 2012 3:41pm CST
There are so many social networking sites out there, it is hard to keep up. I just recently got a new phone plan that will allow me to download apps which then lead me to learn of many more networking sites. I never even heard of most of them, but I am willing to try them out and learn more about them. Here is a list of a few that I'm a member of... Facebook(I like it way better then myspace) Cafemom(its like facebook but just for mothers) Tumblr(it's kind of a blogging social network) getglue pinterest foursquare(not really a social network but you can keep in touch with friends) mylot tagged linkedin
1 response

• Philippines
22 Feb 12
I'm on to facebook, twitter, linkedin, stumbleupon, tagged, myspace, digg and other which I can't remember..:).. I needed those site to promote my articles.. sometimes I am having a hard time keeping up with all of that but I have to..:)

• United States
22 Feb 12
oh silly me I forgot about twitter I'm a member too see I can't even keep up haha, but I added them to my favorites bar or bookmarked them so I remember.