Reflect on the story of David and Goliath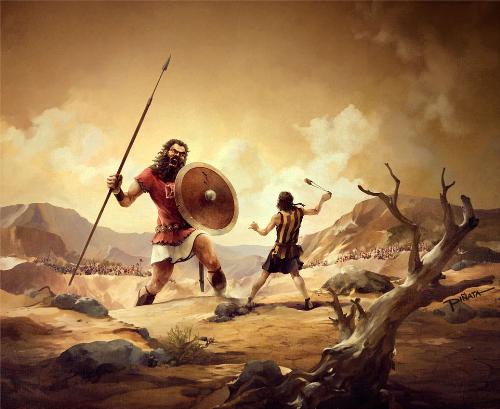 Philippines
March 11, 2012 12:27am CST
The bible story about David and Goliath has fascinated us ever since we were able to read. Our parents may have told us about how a young sheperd boy named David battled it out with Goliath. On the story itself, Goliath has been challenging any Israelites to face him one on one in the middle of the battlefield. Likewise David was on top of a hill tending to his fathers sheep heard the challenge, and bravely asked King Saul to face Goliath himself. King Saul didn't imagine a young boy would have the courage to face the mean giant but had faith in David to accept his offer. The king provide David with all the equipment he needs in the battle, an armor, shield and a sword. However, David resisted in using those battle equipments, instead he choose to use his leather waist bag full of stones and his sling shot. Afterwards, he was in front of Goliath and they fought against each other, until David picked a smooth rounded stone from his bag and used it as a bullet for his sling shot. With David's strong belief in God that he will protect Him, steadily he aimed at Goliath's head and David shot the giant in between his eyes. The stone strucked deep into Goliath's head which in turn led to the giant's death. When the giant fell down on the ground David picked Goliath's sword and he cuts off the giant's head. This by far is the most popular bible story if I'm not mistaken, but this is not just a simple story of courage and bravery but has a deeper message for all of us who believes in the Lord. Can you reflect on this story and share what could be the message this story is all about.
2 responses

• Philippines
11 Mar 12
There are a lot of messages and lessons out of the story. These lessons can be applicable in any area of life. May it be spiritually or materially. It's interesting how God put David in a situation where he can show the power of God. His brothers who are soldiers even discourage him. Most of the soldiers including the king are skeptical about his intention of fighting Goliath. I am just in awe of how David demonstrated his courage that anything is possible with God. Goliath may symbolize different trials that are too big to bear. But when we face it in the name of the Lord, everything is possible. Don't ever under-estimate the power of God because in weakness, is God's strength. Young David may look like a youth which we look upon but God looks at the heart.

• Philippines
25 Jun 12
That is definitely true, well explained. Life is full of different trials which every man on earth is able to experience. It may come in bunches or in small packages and man must find a way to at least face them will all his might and without man's heartfelt belief in God, even the smallest of trials he can't bear pass it. We can learn from David that every trial there's a chance to face it with a certain solution as long as you belief in yourself and keep your faith in God Almighty. Use your weakness as strength and in no time all your heavy burden will crumble.

• United States
11 Mar 12
This story is amongst many popular bible stories and is taught amongst children in sunday school. David rejecting the equipment reminds me of how I will NEVER study for a big test, pray about the test, then receive a high score like I had been studying for the test my entire life. This story basically shows how much David trusts in the Lord. If you trust God you shall be victorious in every battle or stumbling block. It's just one of those cases with faith I suppose, but then again I could be wrong, but thinking about it now I believe that the message is faith and trust in God through all situations.

• Philippines
12 Mar 12
It is really interesting to note how this simple yet colorful story about David and Goliath has a deeper message for all of us. The writings from the bible are truly magnificent and full of inspiring stories that can be made as a guide for all us to face all trials that we face in our lives. as long as we have faith in God, we will be able to conquer all the Goliath's of our life. Anyone might find the story just for children but if we are keen enough to analyze the deeper meaning of the battle between David and Goliath, it is really applicable to all ages. God's work is really interesting and awe-inspiring indeed.