Ok, tell me your price, how much?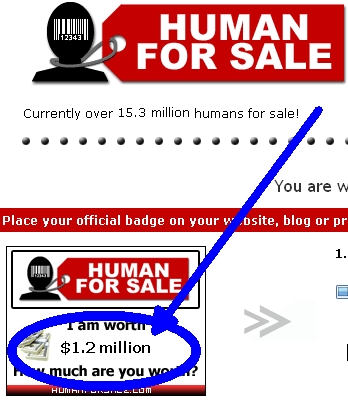 Bucharest, Romania
March 23, 2012 12:29pm CST
Ok, tell me your price, how much do you worth? What is your price. Coz, let's be serious, we all have our price. There is a point in life's timeline when and where we all just crack down and I think is a good choice to know that limit. For now I was not into a deep bad situation by now but yet I felt several times during my life that I am this close to cracking point ... I probably won't panic while ship is sinking but is possible I will try to save myself prior to try saving others .. but maybe not, while there my be a chance for me to do useful things ... And I may hesitate or change mind not to say where you all hide from zombies if they would grant me to stay alive ... And I know for what amount of money I would leave behind everything ... And at: http://www.humanforsale.com/ they say I worth 1.2 millions usd .. So, how much you worth?
3 responses

•
23 Mar 12
Each human has numerous potential to do anything in the world. We can't fix the price for ourselves. God will give us price based on our knowledge, care, hardwork and various factors. This price is in various forms like money, fame, good relations, good friends etc.

• Philippines
23 Mar 12
i am priceless. all humans are priceless. there is no amount of money that can buy a human being. the attempts of economics and financial analysts are based on the skills that are quantifiable based on wage per hour. but skills are only an aspect of humans. the values and commitment can not be quantified, and for such, any pricing of humans fail to fulfill what its purpose may be.

• Bucharest, Romania
23 Mar 12
Hehe, pay attention, mensab, that while you look like you are right saying humans are priceless because commitments can't be quantified in trade values, is not what is all about. My point was .. in fact 2 points: - one is the "actually fun and nice" site I gave the link: is a interesting approach on giving to an individual a price. There are few tests and surveys - all free - to complete (I made them all in no rush within 15 mins). Worth give it a try, at least for fun. - other is that any individual is in danger to reach to a situation where it have to choose a price to give away (give up) or to take in (receive) in order to go forward. In protecting my believes while being forced to drop them or die, I may choose one way or the other. But is not that I was talking about. Is about "I offer you (sum of money or whatever something very valuable) if you do bungee jumping from the top of Burj el Arab ..." EVERYBODY have a price which he/she will do it. That price I am talking about.