Which Easter traditions do you have in your country?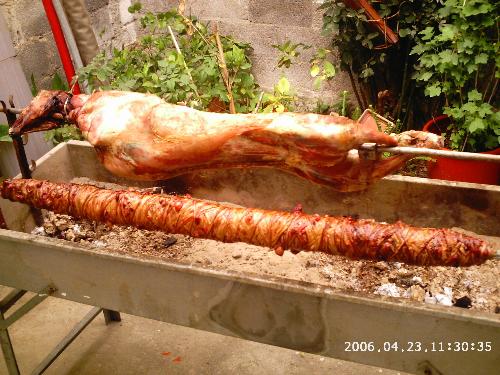 Greece
5 responses


• Greece
13 Apr 12
We don't eat either. Only on Sunday. I didn't make that clear.

• Denmark
13 Apr 12
We have some of the same traditions in my country. We eat lamb, we paint eggs and and eat chocolate eggs. This year my husband and I spent Easter Sunday with my mother-in-law and we had a very nice lamb dish. When I was a child my mother and I used to paint eggs and we also had a egg hunt in the garden. In addition to those things we have another tradition. The children make papercuts and send them to relatives and friends. They never write their names on the papercuts, they only write dots. If their name consists of 4 letters they write 4 dots, if their name consists of 5 letters they write 5 dots etc. If the person who receives the papercut is unable to guess the name of the child who sent the papercut he or she has to buy the child a chocolate egg.

• Greece
14 Apr 12
Nice tradition for the kids. We paint eggs, usually red. Sometimes we use women's stockings to tie leaves on the egg and make nice designs.


• Greece
13 Apr 12
Kokoretsi rocks! It's my favourite.

• Gold Coast, Australia
16 Apr 12
Here in Australia, there are not too many hard and fast traditions as we are so multicultural. But mostly Easter means a time of recreation for most of us. A four day weekend to relax and have fun. People go away camping a lot over Easter as in many states it is the last long weekend of good weather before winter arrives. It also falls during the first school holidays for the year. In many states, it kicks off the start of the two week school break, but this depends on what time of year Easter falls on. Easter also means lots of chocolate too of course with mainstream supermarkets kicking off their Easter displays of chocolates and hot cross buns in late January! Most people do not decorate real eggs, but many people hide chocolate eggs throughout their house, both inside and out for the kids to go and find. This usually ends up with eggs not being found, parents forgetting where they hid them and then they turn up over time, sometimes months later!


• United States
13 Apr 12
Here in the US the tradition is Easter egg hunts for the kids, candy, gifts, for some people a nice dinner. Painting eggs or dying them which ever someone wants to do. Making little goodies like cakes and stuff.