A little flying friend called Robin kept us company in February and March...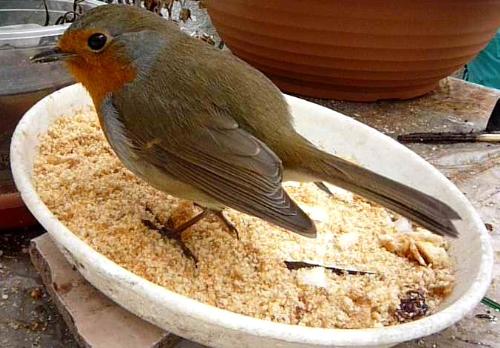 Greece
April 14, 2012 7:51am CST
A little bird called Robin stayed with us for two months. I read that they keep a place for themselves and they ara very agresive. They drive other birds away. That place was our back yard. We put a plate with bread and fruit and he was there all the time. My father was all day long in the yard because of his flowers. The little robin was next to him. I placed my camera next to his plate and shot a video of him and his "partner". Or "he", could be a "she". I couldn't tell. The photo is from that video. Now our little friend has left us to go into the forest. That's what they do in the spring. Do you think he/she will come back next year? Have you had a similar experience?
4 responses


• Greece
16 Apr 12
I took it from the video I shot. I could't go so near. As you can tell by the picture he is on the look out, even because of the strange new thing (my camera).

• Costa Rica
16 Apr 12
My home has a big back yard, and there is a lot of birds in there, some are very agresive, when breeding time comes, and I also let fruits, grains and water for them to eat, it is nice to see all sort of bird, colorful and brilliant in my yard. I guess it is possible that the bird come back to your place next year, at least, most of those who come to my house, comes every year to nest in the same trees, I don´t know about the particular habits of Robins, but I see quite possible.

• Greece
16 Apr 12
His return would be good for my father, he says he will build him a nest. They got close :)

• Canada
15 Apr 12
I do think birds have their own territory so he will probably come back. Oh males are more colorful then females in the bird species. The robins around this area are useless. They are supposed to get rid of the worms in the apple tree, but do not. The next is no doubt in the forest and if you found him when he was a fledgling, you probably imprinted on him. So that could be the reason.

• Greece
16 Apr 12
No he is a grown-up :). But I hope he returns next year. That would be nice.


• Greece
14 Apr 12
I hope. But...how do we know it's him? As 3honor said, I hope we "adopted" him. Have you seen the photo?