What is a peaceful life to you?

Philippines
April 26, 2012 11:16am CST
Every person is different and that means every person has different needs and wants than others. People also have different dreams and aspirations, and we can see that there is always something different on how you dream your life to be as compared to how others dream about theirs. If people dream differently, they should also have different ideas about how a peaceful life for them would be, right? So if I ask you what a peaceful life for yourself would look like, how would it be?
4 responses

• Philippines
26 Apr 12
I would have peace in life, if everyone that I love (parents, siblings, husband, kids) are in a good place and in good health. I would not be at peace until I know that they are able to eat at least 3 times a day, are happily living each day of their lives, and are healthy. I may be able to take those thoughts away for some time, but it would still come back to haunt me. And, its sad that I don't have the power to make them happy all the time.

• Philippines
27 Apr 12
Well I guess that's one sad reality in living in this imperfect world. I also think about my family's condition always and hope they're away from any dangers and would all have good future, and also good relationships with each other. One source of great peace really can be found in one's family. I remember when I was working in a company where I would have a lot of stress, and the only solace I had is when I come home and meet my parents and siblings and we enjoy our times together.

• Philippines
27 Apr 12
True...we can only hope for things to happen to them, but we can't control everything. I mean, I may be successful due to my own efforts, but if they don't have the same attitude as mine when it comes to working hard, they really can't share the same success. If only I could drag them with me all the time.

• Philippines
19 May 12
Yes, I think we can only influence them to work as hard as we do. Being a good example is one of the best method of teaching, I think.


• India
1 Nov 12
There is a saying - "After the storm comes the calm, after the calm comes the sunshine" There is always a turbulence in our life with confusion confounded. We do not know whether we will get what we are looking for. Efforts will be put in with frustrations galore but finally when maturity sets in everything becomes crystal clear and that is the time we get the peace that rightfully belongs to us. I have got mine.


• Philippines
2 Nov 12
Well said, allknowing. So peace comes with maturity, after facing a lot of trials and difficulties which only makes us stronger...then we find our peace. This makes a lot of sense, because I think those who are weak in the face of trials and tribulations are the ones who would find it most difficult to find peace, and those of us who manage to face our fears and have matured in handling them finds peace that can't be shaken by any kinds of difficulties that comes their way.

• India
2 Nov 12
Looking back at my life, I now wonder what a fool I was to have taken offence on matters that could have been easily ignored. I do that now. I do not precipitate and within minutes everything is back to normal.


• Philippines
10 Nov 12
Likewise here, allknowing. So I don't focus too long on negative thoughts when they are introduced in my mind and tries to clear my mind as soon as possible. These negative thoughts are the ones who create our negative emotions and brings us in a bad mood. Just like you in the past, I too succumb to such thoughts and makes my whole day unpleasant.


• United States
1 Nov 12
That is so true, that what someone would consider a peaceful successful life for them, might not be a good life for you. As we all have our own hopes and dreams of what we are wanting and desiring for our life it is important to keep these active making sure you are always happy with what is going on for you. We never should allow ourselves to settle for 2nd best while also remembering to not allow someone to determine where we need to be as well.

• Philippines
2 Nov 12
Hi KrauseHome. Considering all you have said especially on your last sentence, your peace might mean to be the best that we can be and to have our own freedom to choose for ourselves how we want our life to be. If that is the case, I believe in that and that knowing that we are doing our best with whatever we have and whoever we are right now should give us a feeling of contentment, without guilt. And if we are really in control of our lives, that could also give us peace knowing that we are in control and not others nor situations nor any other outside forces. Peace!

• Philippines
2 Nov 12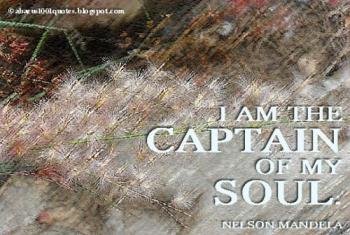 We are the captain of our soul, as Mandala puts it...

• Philippines
8 Nov 12
Peaceful life to me is... when things are okay with church leaders and our ministries, things are doing good with hubby's work, when I'm earning more with my online jobs, when my baby is doing good and of course my whole family is doing good the most. But when one of those are not doing good... my mind is not and so my heart.

• Philippines
10 Nov 12
Those are all good goals and wishes for your own life and those you love. I hope all those goals and wishes are always realized, and more especially this coming Christmas season.