we sometimes feel bored working but we have to keep going

Philippines
May 2, 2012 5:13pm CST
I feel bored and lazy sometimes at work. I feel like quitting and find another job but I guess that is not a good idea. I may feel the same thing. I have to keep going and let the feeling pass. YOu know that is all about life. We do the same thing everyday. But we shouldn't forget to treat ourselves. I'm going to eat my favorite ice cream flavor later after work. How are you ? How's work?
8 responses

• Philippines
29 May 12
I usually get bored with my work and I get you, even if I'm bored with it, I can't do anything because I have to do it and there are no other available jobs for me so I really have to do it. Sometimes we really have to do something whether we like it or not.

• Philippines
6 May 12
Same here. I really feel bored on my work now. And I could not do anything but to continue on it. I don't have any good source of income right now that would really suffice my needs and what I want in my life. I just keep on my mind that things on this world are really not that easy, it is always hard. But the only thing that we could do is to enjoy each moment. Besides, it always our choice to be happy on what we do. Stay happy my friend.

• Philippines
5 May 12
Work is boring as always. I am not enjoying it already but there is nothing I can do for I really don't know where to go. finding a job these days is really very hard so I guess i'll have to stick with my job. I am glad mylot is here to make my day different from yesterday. At least I get to read and respond to another discussion every day. Mylot is really my savior of boredom from work.

• China
3 May 12
hi,Tess,i guess you need some physical exercise. When you are in good health, the pressure from working will get lighter.

• India
3 May 12
I love to do works. Especially the one for earning. I love earning because they provides me a good opportunity to enjoy myself. In most of the cases I found out that money is the one which makes me a failure. So I realize the need of it in my life. So I am in my path to have it. So now I am not able to put my jobs aside.

• Philippines
3 May 12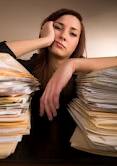 Hello Tess, I agree you shouldn't forget to treat yourselves, sometimes when you work for a job for a very long time, you get so used to it that you ended up getting bored. remember, that a lot of people are not lucky getting the job that you have now. besides, a friend of mine actually experience that, i just kept telling her to have a good r n r and she'll be back in shape



• Philippines
3 May 12
I understand how you feel. I'm also very bored at work. But, I could not leave just yet because I cannot find a suitable next job. Yep, if our life is dull - doing the same things everyday, then we could spice it up a bit. Why not look for activities that would improve you or your finances? Maybe engage in a sport, go to the gym, or go to school again ~ to acquire technical skills, or maybe learn a language. Or, maybe do some part time jobs. The options are limitless!

• Colombia
2 May 12
I agree that work can suck at times and even make us feel like quitting. The thought of having to pay bills and have the money to buy the things I need/want brings me back to reality and helps me continue to go to work daily. It is very hard to find jobs that we truly enjoy and with today's economy, just having a job is a blessing.