Mturk worker from Philippines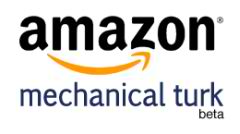 Philippines
May 26, 2012 9:03pm CST
Is there anyone here from Philippines who is presently working with Mturk? Have you already used your earned gift certificate? Do you think it is worth it to work with Mturk? I tried to use my gift certificate but for a price of 3 dollar lipstick I was billed around 38 US dollars inclusive of shipping fee. I want to work online to have an additional income but if I had to spend also just to avail my payment Im thinking am I doing a right move of continuing my work with Mturk? Is there any means to get cash from my gift certificate?
2 responses

• United States
27 May 12
My brother lives there and uses Mturk, but I don't know if he ever used their certificates. Just have the money go into your bank instead and then you can put it to better use.. Their shipping fees really are rather expensive.

• Philippines
27 May 12
Hi cupkitties, the problem here is that Mturk payment can only be used to purchase online. It would have been so much better if we can transfer them in paypal or in our bank



• Philippines
28 May 12
Hello Cupkitties! Girlthinking is right.I just dont know why Mturk dont pay in cash their Philippine based worker,like thru Paypal. Well, thats my another problem, about the shipping that will possibly cost me here in the Philippines like taxes I have to pay. I still have to know if Amazon caters a door-to-door delivery. it could be more expensive than ordinary shipping like thru post office but I wont pay taxes at all..

• Philippines
28 May 12
There's a make-up I want to buy in MAC but the shipping fee is twice as the price of the product itself!



• Philippines
27 May 12
Me! I am an Mturk worker and I am from the Philippines!

It is both easy and hard to earn in Mturk. I have an account and I think so far I have earned around $2.. The tasks are easy to do but since you can only use the money to purchase online, you have to wait until you have a good pile of $$$ otherwise the shipping fee payment will be coming straight from your pocket..

• Philippines
27 May 12
Yeah, that's what's good about it. There is no expiration. But you have to work and work to accumulate good amount. Some of the tasks are unavailable though due to location and other stuff. Haven't really opened my mturk in quite a while! Thanks for reminding me!