It hasn't change up to this day.

Philippines
May 27, 2012 10:20am CST
So today we visited the amusement park in our area. And I have mentioned in my previous post that it has been ten years since I've last visited amusement park that is why I was so excited. When we were there I noticed that the same food that I used to enjoy way back when I am frequenting places such as that are still the same food that are being enjoyed by kids these days. Hotdog on stick, cotton candy, and ice cream were the staple food on some amusement parks during my days and up to now, they are still the best sellers! How about you fellow myLotters, what are the food that you used to enjoy as a kid that are still widely available and well-loved up to this day whether in an amusement park or not?

2 responses

• Malaysia
28 May 12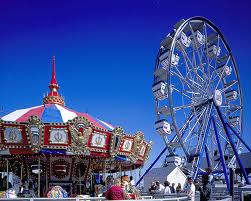 not mucs food there, more of carnival type, paenuts and soft drinks only,th rides are more for children, cardboard scare ghost houuse , bu the rides are little cheap , built on temporary land for 1 month or few weeks only. night open only . bumber car and assorted round the merry go round rides.Parents bring only or young couple nothing much special.

• Philippines
28 May 12
Hey there ladyhemingway, Wow it has really been a long time since i had been in an amusement park, anyway the staple in my part of the world in terms of food in amusements parks are fishballs, yeah hotdogs too, squidballs, buy one take one burgers and orange hardboiled eggs