High School Movies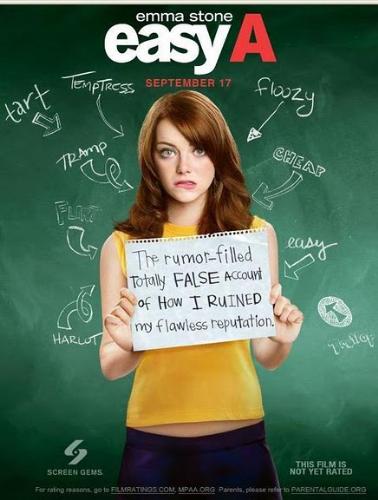 Canada
June 7, 2012 12:07am CST
So I recently watched Easy A for the first time (yes, I'm REALLY late on that) and I actually really enjoyed it. Now I'm looking for more high school movies to watch because, although I wasn't the most popular kid (in fact, I was VERY much a nerd) I loved high school. People say high school was full of unnecessary drama, but sometimes I wish crushes and backstabbers were my biggest problem, as opposed to paying bills :P So tell me, what is your favourite high school movie? Were you one of the few people who loved high school? Thanks for you time :)
5 responses

• United States
7 Jun 12
There are a lot of really good ones. I am found of these movies myself. I think that fast times at ridgemont high is one of my favorites. For some reason I like them, even the highschool musicals and grease. There is a teen soap about highschool called the secret life of the american teenager that I just am addicted to.

• Canada
7 Jun 12
Awesome, thanks for the suggestion. I remember seeing commercials for that show, but I really don't know what any of it is about.

• Malaysia
7 Jun 12
i havent seen this movie..i wanted too..but i missed it when it was showing in the cinemas..will proabbly download etc... the girl is cute...is she the one in the new spider man movie??

• Canada
7 Jun 12
Yes! She's starring in it with Andrew Garfield. You should definitely check out Easy A, though. I thought it wasn't going to like it but Emma Stone was really great!

• Malaysia
8 Jun 12
ooo Emma stone..thats her name.. i think ive seen her in a few movies.. she's really gorgeous.. she looks a little like amanda seyfried..some angle.

• Canada
12 Jun 12
She is! And she's quite a talented actress. I think she was also in Friends with Benefits, for like 1 scene lol.

• Czech Republic
7 Jun 12
The Breakfast Club and Heathers are my favorite high school movies. Our school was nothing like high schools portrayed in Hollywood movies. People weren't really separated into groups and nobody cared about popularity. We were a pretty small class so we all hanged out together.

• Canada
7 Jun 12
Oh I've never heard of The Heathers. Any big names in that movie? You're lucky your high-school wa not so clique-oriented. I noticed that in my school, people of the same race/background tended to hang out with each other. Is that just my school?

• Czech Republic
7 Jun 12
Yes, Winona Ryder and Christian Slater. Well in my school we were all the same race. Kinda boring, eh?


• Canada
12 Jun 12
I HAVE noticed most of the great high school movies out there are from the 80's and 90's. The only ones I really know that are recent are Mean Girls and Easy A. Know any other recent films? :)

• Philippines
11 Jun 12
Try some japanese movies. Like Koizora the movie (SKY of LOVE) starring Haruma Miura and Yui Aragaki. I'm sure you'll love the story and also Haruma. The story of a high school girl named Mika who falls in love with her schoolmate Hiro. It is a summer romance between the two. Their love for each other becomes more intimate and Mika got pregnant. Mika lost her baby because of an accident and Hiro leaves Mika without telling a reason. Mika stop herself falling inlove again until she meet another guy in college named Yu (Keisuke Koide). Mika open her heart again for the second time. She was happy with Yu. And then, he meet Hiro again. Hiro has cancer, he doesn't want to tell Mika his situation because he love her so much and he don't want to see Mika crying. And the ending... You have to watch it :)

• Canada
12 Jun 12
AWH! that sounds like such a beautiful story. Unfortunately I really don't know where I can find japanese movies. Where do you watch them?