PLEASE, SORRY OR THANK YOU- Are they really lost today?

Malaysia
June 8, 2012 1:09am CST
When I was in primary school, I learnt that the three basic word of fundamental living daily was Please, Sorry and Thank You depending on various situation of life. That if I apply them daily in my relationship with men, I will have a blissful day. When I want make a request, I must use the prefix PLEASE to establish my request or demands. When I hurt one or want to tender my sympathy, I employ SORRY to the person either as the offended or a victim. When I received a gesture or kindness of any kind, I not fail to say THANK YOU to the giver. Either to God or person or situation. I wonder where this great words have gone in our time as the world is getting messier. People see it as weird. Please can be found or are lost?
11 responses

• Chile
10 Jun 12
Fortunatly, those words belong to the vocabulary of the people who are near me, including my grandchildren. I thin it has to do with the way people are brought up. I don´t understand many of the words my grandchildren use as they are a sort of jargon that was not used years ago. But in the midst of all, I can still hear the words "please", "sorry" and "thank you".


• Chile
11 Jun 12
A smile and polite words help a lot more than we can ever imagine.

• India
8 Jun 12
hmm actually even if any one saying me that words na i am saying them why you abusing me,,cause i ahve learn that sorry,thanks & please.that all having no any space in relationship.

• India
8 Jun 12
In my place, people are really formal so they do use these words often but don't know how many of them really mean them. I'm grateful to the person who helped me, so I never forget Thank You, don't remember if I had forgotten to mention but I would in heart for sure. Sorry and please too.. but I'm not good in talks. I hope people read minds than judge by what said as everything can be read from face, in a sincere person as only he'll use these words.

• Malaysia
8 Jun 12
Yes as you said. Appreciation is very much needed in daily relationship. I really like your never failing to say thank you but other ones like sorry and please can still be said, because I know that as we cannot read others minds, so they cannot read ours, but when demonstrated with words or action, nothing more is needed.

•
9 Jun 12
Me and my husband was raised to have manners, and we teach our children manners. I'm proud to say they all use them and we have 3 of them that are adults and they are very polite. I agree you don't hear please, thank you, sorry anymore. It need to be in our culture again.

• Malaysia
8 Jun 12
In my environment, I don't think these words are lost. There are still many people saying Please and Thank you commonly. Perhaps a real apology is a bit difficult for someone to say, but there are still some people apologize when they did something wrong or offended someone.


• United States
8 Jun 12
I truly believe they are not lost. I put into my children the standard yes sir or yes ma'am too. I believe it is important as a parent to pass down politeness and teach children please, sorry and thank you just as strongly as they say no. Or in my household, no ma'am or no sir. Practice is all it takes to keep it from getting lost.

•
8 Jun 12
I think the people in world generally has failed to play their parts. The parents who should be teaching their children how to behave are busy doing other things and disrespecting each other. I think if we want to regain back, we need to change since the younger ones are looking after us.

• Philippines
8 Jun 12
Accept it, it's the reality that even i hate. You do good, they don't say thank you; you've been hurt, they don't accept to say sorry; someone need a request, they don't say please to you. Even i missed that day where i always heard those words, too bad there are only few now that has those words in their vocabulary. To be honest, for me, words like please, sorry or thank you aren't lost today, it's that people are the one lost in their way of life.

• Malaysia
8 Jun 12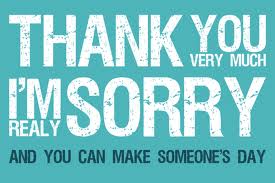 i guess the trend is dying as no extra effort is given to drill these gentlemeness into society young and old.MEanwhile the society itself is rotting with ever increasing pressure on its residents with economic crisis, natural disaster , sickness , crime and such , until the person is pressured to be in bad mood to said sorry or thank you.

• China
8 Jun 12
I am, either. Even though I know I should say "please" before I ask somebody for help, and say "sorry" for someone I hurt, I always miss the best time to do. In my mind, one sound tells me,"You should say thank you to her, because she helps you a lot", and another voice appears after,"It's no need to do this, you are know each other for a long time, there is no necessary do this between you and her". Then I lose the best time to say "Thank you" to my best friend. Apologise is either. I think one of the reasons of losing these words is, I think these words will increase our distance of our relationship. We are just like strangers. I can't figer out the scene if I use these words, my friend will like me or not.