They love their new playpen!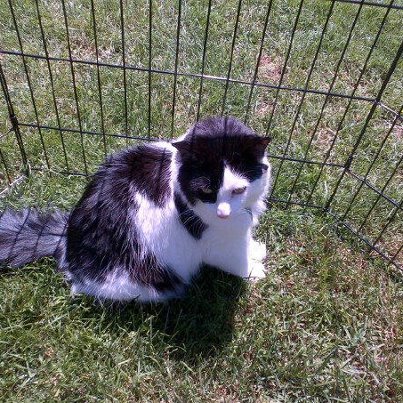 Canada
June 14, 2012 8:05pm CST
I would bring the brat out in their strollers, but they didnt really get out. It was confined, and small area. Patches loves going outside, and I was looking at a playpen for the backyard during summer. I was looking at the ones that are basically tent material for Patches, and Marco. Pet Valu had some dog ones on sale. I grabbed one and its fairly big, I can sit in it with room, but cant lie coompletely down. My Dad had some old chainlink fence, and he made a roof for it. I was worried about Patches as shes adventerous, but sshe would be surpervised I would simple sit there and worry. While at work my parents brought Patches, Stripes, and Toppie out in it then my sisters cat Monkey and my Moms cat Grey. They all loved it Stripes and Toppie are a little nervous but were supposeable fine while in this. I am going to get Marck a harness, and leash then bring him out.
2 responses

• Philippines
22 Jun 12
wow that's nice you got a playpen for your cats. they must be very cute to look at inside..i can see your cat patches..he is a cute cat..looks like our cat.with black and white fur..he's a beautiful cat!

• United States
15 Jun 12
Cats love to sunbathe so they will love this once all of them get used to it. I saw another picture you had and it looks like it has a good amount of room in it for all of them to enjoy and romp a bit.