Feng Jianmei forced abortion in China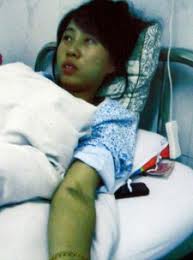 Philippines
June 18, 2012 10:48am CST
This story is so sad and I feel anger and sadness inside me. We all know that China has a 1 child policy since the 1970's due to the over population in their country. And one of its victim are mothers who are forced to abort their second child if they couldn't pay a fee of $4,000 as fine. What is sick about this story is that Ms. Feng Jianmei was abducted by men and rushed to a hospital to abort her already 7 month old baby. Her husband is working and not with her. She was forced on the bed and the hospital staff injected a chemical on her baby that caused its death. Her husband even told the media that her wife wanted to kill herself because of what happened. Who wouldn't? Especially if your baby only 2 months away to be released in the world as a new born is lying beside you on your hospital bed already dead. I'm angry and so upset of this news that I couldn't even put it in words. I just hope that the Family Planning Officials of China couldn't sleep at night with all of the women they forced in abortion. I pray that my anger would go away but life is life. And only God is supposedly the only force that could take it away. Here's the link of the news that I've read online. Graphic image is posted on this site. http://www.allgirlsallowed.org/category/other-tags/feng-jianmei
7 responses



• Singapore
19 Jun 12
Yes, i saw it on yahoo as well. I really feel for the mother as well as the family. China should have abolished this ridiculous system way back since china is a developing country. If China is unable to accept newborns in their countries, they have to make sure they reject all Permanent residents or new immigrants as well. I don't think China government is worried about over population, they are worried about something else instead, which is why they are hiding, and in fact most of the top officials there are corrupted. I believe if they are able to pay more than the $4000 fine, the second child will get even better treatment.

• China
19 Jun 12
It's true that there is a family planning policy in China. The policy is strict enough but not as cruel and unhuman as what is mentioned in the accident. The government official in the accident is too extreme to be excused. As report goes, he has been suspended and investigated.

• China
18 Jun 12
This is just one of the unfortunate incidents where we have incompetent people in governing. China is really trying to take out these incompetent corrupt officials and it will be some time before things could get better. I believe the central government is really closing in on this matter and the responsible parties will be held accountable for their misdeeds. However, I think I need to highlight here that my country now allows more than 1 child to a family already. The one child policy had already been abolished for some time already.

• United Kingdom
18 Jun 12
I know that China has a one child policy. I also know that a second pregnancy can be an unplanned and a surprise in China. The lady was 7 months pregnant and it was terrible what happened to her. It was awful she had a forced abortion. I don't think that the lady will will be happy ever again. I feel very sorry for that lady in China.

• Philippines
18 Jun 12
Well, china will really have its karma with this policy...