Tree is wearing a coat of leaves from climbing vines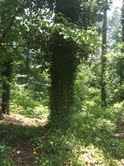 United States
June 19, 2012 4:18pm CST
We have some trees that have what I think is ivy climbing up them. Our trees are quite high and the vines go up and up on the trees. It makes the trees look very pretty, but I wonder if it bothers the trees any? They do not go up to where the branches of the trees are, or where the leaves of the trees are, so that's a good thing. Do you have any trees like this? If so what is it that is climbing up the tree here?
2 responses

• France
19 Jun 12
It is a popular belief that ivy kills trees, but it is only true for conifers and not for broad-leaved trees. Ivy is not a parasite, it grows with the tree and protects it from bad weather and rodents. A tree covered with ivy is also a good refuge for birds. Ivy lives in osmosis with broad leaved trees ; it gives them, like you say, a "pretty look" and it is why this osmosis is recommended by landscape gardeners

.

• United States
19 Jun 12
Wow! I didn't know that. So ivy is a hood thing. We had some ivy on our brick out in the back and I took it off because my SIL's mom (our landlord) said to.

•
20 Jun 12
I bet that looks lovely.We used to have ivy climbing up the front of our house but we had to take it down as it made my bedroom wall damp.Perhaps it will protect the tree.We have trees in out garden but we don't have anything climbing up them.The trees are looking really lovely at the moment with all the buds coming through,mind you the blossom was delightful ,trees are so lovely all year changing colours ,blossom,buds changing to blooms.We have an eating apple tree,a crab apple tree.Shrubs and flowers in our garden.We put wild flower seeds in a patch at the back and they are coming through in a blaze of colour.What with snow,drought and rain which soaks the ground to the point of flooding wild flowers grow anywhere so thats what we decided to do and we are glad we did.