What Lifts You Up?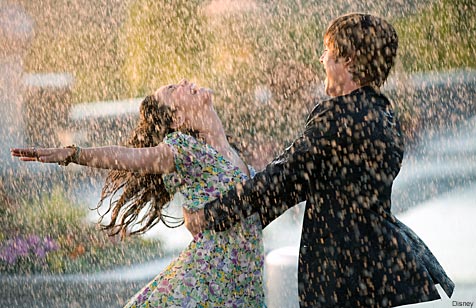 United States
June 20, 2012 10:22am CST
Whenever you feel down or blue, or just it has just been a bad day, lots of traffic, things going wrong at work, family issues, fighting with your loved ones, what do you do, or what can lift your spirits right up? There are many things, for me, that make me see how beautiful life is. These are no epic events or epiphanies, but plain, small things that make up life and are just breathtaking. A little yellow color on grey days, a smile from a cute stranger, my name on any other vehicle on the road [my name is kind of popular for girls nowadays and I see it printed behind many vehicles and taxis, and for some reason, that always cheers me up], a long drive in pouring rain, something delicious to eat when I am famished, a surprise call from my best friend, a little dancing when no one is looking, singing in the shower, loud songs on my headphones, seeing an adorable puppy and grabbing it, a cool breeze in the evening while sitting outside on the porch swing, the color of the sky and the evening [golden orange] after rain, a bouquet of flowers, a single red rose and much much more. So, what lifts you up, and makes you smile, even when you feel miserable?
8 responses

• Bulgaria
20 Jun 12
Yeah these days we can't see how beautiful our life is. Our days are so busy and everyday new problems and new. I also really love when a friend call me to meet somewhere and have fun. When I feel really miserable (which is really often these days) I just try to have a rest reading a book or go out somewhere with friends or my family. This is the life and yeah it can be difficult but if we know how, he might be a really beautiful place to live in.

• United States
20 Jun 12
That is true, we need more time to appreciate the good things in life.

• United States
20 Jun 12
Some days when it seems like all is lost, and that misery is all that the world holds, my cat will make me smile. Belladonna is always doing something silly, and even on my worse days she can make me smile. Also my best friend. I adore her. Some days for a pick me up I'll pick up one of my favorite books and read my favorite parts, or read funny things online. Also, sometimes coming onto mylot and talking about it with my friends here really helps.


• United States
20 Jun 12
How sweet! What does Belladonna mean, do you know? I would love to have a pet soon, I think they can reduce your stress very easily and cheer you up.



• United States
21 Jun 12
Yes, with lots of bubbles, some soft music and maybe a glass of a cool drink or a book. For me.

• United States
20 Jun 12
When I look into my daughters eyes It lifts me up.

• United States
20 Jun 12
It shows that you love your daughter very much. She is lucky to have such a parent.

• United States
20 Jun 12
Hello kkaria309 Some of the things that lift me up when I'm feeling down are a call from a friend, especially when it's unexpected. Likewise, a call from my children, or my brothers will make me feel better. My dog's smiling face and her funny antics will help to lift me when I'm feeling down. Sometimes a song will do the trick. Seeing a stranger do a kindness for another will help me to feel better. Also, just seeing a baby. I am also very fortunate in that my wife loves me so much and she usually can greatly lift my spirits just by looking at her beautiful smile and her warm eyes.

• United States
20 Jun 12
That is true, someone''s love and support can make everything better.

• Pune, India
23 Mar 13
Hi, When I am not in mood the encouraging words from my wife makes me smile. We both become happy with our son's progress and smile on his face. We have many difficulties in our life but our son is the source of our smile. His job, his promotion in job etc. make me smile.

• India
5 Feb 13
Thanks for sharing in great details. When i am sick or unhappy or stressed for some reason or other, calls from well wishers, visit by friends and presence of my wife near me makes me happy and i feel lifted.

• United States
10 Jul 12
I like to take a nap. Usually I feel a little better about whatever is happening when I have had some rest. I try to remind myself that it is not necessary to get all bent out of shape about things that may be going on. That I should just do the best that I can and not worry about the rest.