How do you find real closure?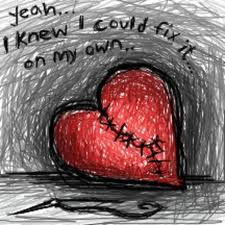 Malaysia
June 26, 2012 10:57pm CST
Dear all mylotters, We all gone through up and down in a relationship. And when it ended, whether it is in a romantic or platonic way, we are left trying to navigate the pain while picking up the messy pieces. As for me, I think the best way is to connect to the truth and accept the fact that the other person isn't the right one for us. No matter how much we think we love and care for the other person, but if the other person doesn't feel the same way, that means we better off with someone else. And what else we can do is to cherish the moment we had and stay positive. I meditated on this day and night and embedded it at the deepest layer of my brain, but I have no clue on how to integrate it within my heart :( Ok, long theory/story short, my friend's ex boyfriend (4 years relationship) just got married recently. Although they broke up about 2 years ago, and she already dated another guy, however she has the idea (subconsciously) that one day they will find their way back to each other. I'm not sure the best advice to give her, all I can say is just that 'I know this is hurt, but in maybe in a way this is the real closure'. So my questions are, how do you find real closure and get rid of the idea and hope 'maybe one day..' Thanks and hope to hear from you guys =)
1 response

•
1 Jul 12
No matter how hard we think, how lonely we can be it's just part of the past now. I let myself do all the emotional things 'cause it's the best way to heal the wounds of my heart. There are times we feel weak because of the heart breaks but soon we will be fine. Sometimes it's nice to let our heart rest for a while so we can have more strength again the next time we are in a relationship again. We have to accept as it is and understand that life must go on.

• Malaysia
6 Jul 12
Thanks for the sincere comment. Sometimes we live our life without connect it to the reality. I mean it's not easy for everyone to accept the truth, especially if it is an ugly one. However like you said, life must go on.