the unpredictable weather is making me sick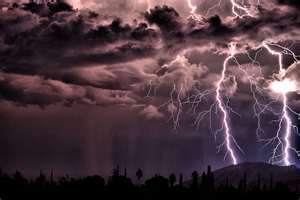 Philippines
July 6, 2012 1:33am CST
it was kind of sunny when I woke up but then after an hour the sky went dark and it began to rain. there was thunder and lightning and it was raining hard. another hour passed by and the rain went away slowly and the sun is now shining again. the unpredictable weather has caused a lot of my colleagues to be absent from work due to fever and flu. I dont want to be sick too.
5 responses

• India
6 Jul 12
Hi friend, it is really hard to predict the nature. Don't worry surely this weather don't give more troubles to you and you don't get flue or fever with it. Take care of your health

• Philippines
6 Jul 12
Yeah the weather is so unpredictable and changeable that make other people sick. Luckily that I am still okay and don't see any sign of getting sick. Unfortunately, my niece got sick due to the weather for two days now so she already missed 2 classes. As of today she is doing fine now and hopefully will get better this weekend.

• Australia
6 Jul 12
I'm not sure where you work but I usually blame it on them. For example in summer when it's really hot outside and you have been out there a while on your way to work and you walk into the building and it's freezing cold due to the aircon. People used to get summer colds because of work. I've left there now so didn't have to put up with it for anothe rsummer and make complaints that it felt like winter insie the building!

• United States
6 Jul 12
Our recent weather plus a broken down car has made me sick. We've had temperatures around 100 degrees (Fahrenheit) or more for the past two weeks or so. This past Sunday, I drove 110 miles to visit a friend of mine whom I haven't seen in a long time. My car ran fine getting there but, when I was on my way back home, the car started dying on me. I had enough energy in it to get it into a parking lot, 110 miles from my home. It was 100 degrees out that day and extremely humid so I know the heat index was well over 110 degrees. I had to sit in that awful heat for two hours before I got a ride back home. The next day, I had to drive back to my car and tow it back home so I was in and out of that awful heat quite a lot that day. The day after that, I started sneezing and coughing. My throat got very sore and my head hurt bad. I know it was because my immune system was lowered from being in and out of that awful heat so much. I cannot take the heat like I used to. Unfortunately, I think the weather is becoming more and more unpredictable all over the world. We're hearing about very strange weather all over the place. I've never experienced such heat before in my life (well, we had something like this two years ago) and we keep getting more and more intense storms. All we can do is to try to be as comfortable as possible with whatever weather we get.

• Philippines
6 Jul 12
It's hard having an unpredictable weather. I don't wanna bring an umbrella with me when going out so I'm the type who makes sure it's not going to rain, or make sure that the rain is tolerable, at least. I don't like holding something while I'm walking around. Although if it rains hard, I also don't wanna get wet. Going to the office looking like you swam the pacific ocean is stupid.