My Foster Dog Running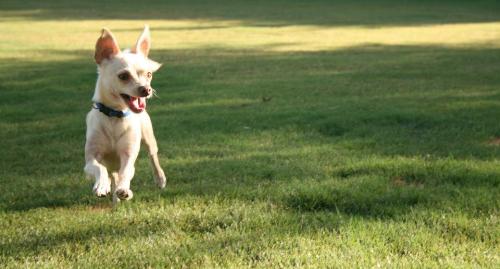 United States
July 8, 2012 1:39pm CST
This is a photo I took of my foster dog, Tinkerbell, while she was running and playing with my other dogs. How photogenic is she? Fostering her has been a real joy, but there has been some interest for her recently. I really hope she gets adopted, but I'm going to really miss her if she does! I really hope you guys will all cross your fingers with me that she gets adopted! Thanks!

9 responses


• United States
9 Jul 12



NOooooooooo!!!!!!!! Lol I guess the people really do want her and are suppose to call to do a meet and greet. The rescue will call me when they call and I can bring her there (that way I can meet the people who want to adopt my baby!)

• Ireland
9 Jul 12
It is a great photo, you are either very talented with a camera or a nerd with photoshop

, but I think it is your eye for a good picture that makes it. Ahh that is good that you will be able to meet the people that will adopt her but i am sure it will be hard to let her go :(

• United States
10 Jul 12
Haha I'm not a photoshop nerd! I'm a photography nerd

Lol. I'll probably think they aren't good enough for her! No one is good enough for my baby! Lol. But seriously, hopefully they do call and hopefully they are nice people!



• United States
8 Jul 12
I've actually had her sicne Feb. so it's taken a long time for people to adopt her. The problem is she's scared of strangers, so unless someone is willing to sit there with her and let her get a little used to them, she won't find anyone! And I'm living with my parents (and sister) right now while I'm still in school, I'm not sure they would let me foster another dog after Tinkerbell. I was really lucky that I convinced my dad to let me foster Tinkerbell.

• United States
9 Jul 12
I don't know how fostering works in an apartment. Because most apartments charge a pet deposit fee and monthly fees. So if they give some kind of deal for fostering then yeah, I'd like to keep doing it. But if they'd make me pay every month when I may not have a dog the whole month then I may just adopt a dog (would be an older dog).

• United States
8 Jul 12
Yes I agree, she is photogenic, and I love that picture of her running, it looks like she is flying. As much as I would love to help a dog in need, I wonder if I could foster one only to give it up when adopted? Of course I am not able to, not financially and since we don't have a fenced in yard, they'd probably look down on a dog run, but if I could, and keep my heart out of it, I would love to help a dog until they get their permanent home..

• United States
9 Jul 12
Well if you find a good rescue to foster for it wouldn't cost you anything. I don't have to pay for anything for tinkerbell...they supply food, toys, bedding (if needed) and any vet costs. And I'm sure a rescue wouldn't turn you down for a dog run, it's better then a lot of rescues have. Of course I'm sure they wouldn't want them to stay outside all the time.

• United States
9 Jul 12
Oh no, the dog would not stay out all the time. But are you sure about the costs? and what about home inspection? My husband would forbid an inspection since our home isn't the greatest. If the vet bill and food is supplied, and it doesn't matter if we have A/C, but a fan, and the dog would not have a fenced in yard, but on a dog run only when the "dog" wants out and will be allowed back in when the "dog" wants, plus the fact that if no one is here, would be put in a kennel, but not every day and not for more than a few hours, then I would consider it.

• Romania
9 Jul 12
She looks very happy, running like this! I am sure she has a good time at your place. I think you are a little contradictory when you wish for a new home for Tinkerbell. Either you want her to go or not. Maybe the best thing for both would be to find a loving home for her in the neighborhood, so that you'll be able to see her often.

• United States
16 Jul 12
She has a blast! She has a huge yard to run through, a bunch of dog friends to play with...she's living the high life right now!

I do want her, but I care enough about her to hope she finds a permanent home soon. I am not in a position to adopt her right now, and won't be for at least a year. In my opinion it would be unfair and cruel to not try and find her a permanent home as soon as possible. It'd be selfish to try and make it so she doesn't get adopted until I can do it.

• Gold Coast, Australia
9 Jul 12
I love photos of dogs airborne while running. They always have the funniest looks on their faces while doing it.

There was one I saw on Facebook the other day with the caption that went something along the lines of "Live your life like someone left the gate open" with a cute fluffy white dog in mid air at full stride. Classic!


• United States
16 Jul 12
Awww I wish i saw that picture! It does sound funny! I could add that phrase to my picture here and it would fit!

I have so many pictures of my dogs running, and they all have SUCH goofy faces! I may have to go through them again and find a couple/few of my faves to share!


• Australia
9 Jul 12
She looks like a Tinkerbell

This is very cute I like how you used rule of thirds on this photo (Tinkerbell is not centred in your shot but off to the side). She should definitely get adopted though :)

• United States
9 Jul 12
Thank you! I think her color would def. be green! A little green dress...would look so cute! Haha I had no idea there was such a thing as the rule of thirds....lol!

• United States
8 Jul 12
She is such a cute pup! I hope she finds a really good family that loves her as much as you do. I think she'd be loads of fun and add such a treasure to the family household. Good Luck!

• United States
9 Jul 12
Thank you!

You can't tell from the photo but she doesn't have pointy ears, she has really cute down ears. And she has such a great personality, she deserves to be spoiled!!!