Continuum Tv Show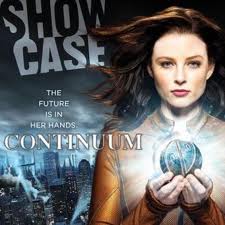 Hungary
July 12, 2012 1:35pm CST
This is a new show that premiered on Showcase on May 27, 2012 and the first season will consist of ten episodes. Freedom fighters/terrorists make a time jump from 2077 to 2012 to avoid death sentence. Kiera Cameron (Rachel Nichols) a future Vancouver law enforcement officer is involuntarily transported with them to 2012. Taken away from her family, Kiera joins with Vancouver PD to stop the terrorists from changing the future. Kiera is partnered with Carlos Fonnegra (Victor Webster) a VPD detective and helped by a young tech expert Alec Sadler (Erik Knudsen). I've only seen a few episodes, but it looks good. Have you guys seen it? What do you thing, like it or not?
4 responses


• Hungary
12 Jul 12
Yeah, me too. That's why I started watching it in the first place. I try to check out many things that have time travel in it. Plus I liked Rachel Nichols in Criminal Minds and Conan, and Victor Webster is kinda hot!

• India
16 Sep 12
I not heard about this show I think this is not in India. I like family TV show and comedy programs only.

• Canada
24 Jul 12
I have been watching this show from the beginning, and I really like it. my sister couldnt jump on board it isnt for everyone. what drew us to it was being set in vancouver and now im hooked. episode 8 aired last night and i guess theres only 2 more episodes left, the numbers for this show have dropped since it premiered but i hope it gets picked up for a second season. it is a great canadian scifi show, and great for vancouver i think a lot of things are filmed there but never set there. if anyone is wanting to check out the series they should stick it out through episodes 1 2 and 3 it gets better at ep 2 3 and 4 i think. the first ep was hard to follow thats why my sis isnt watching it with me.

•
14 Jul 12
It has the potential to be a very good show if it is inteligently written as there is opportunity for many complex plot points.Firstly looking at the complicated differences between what a terorist and a freedom fighter is.Secondly it can look at the complexity of time travel in a more sci fi way for example looking at paradoxes being caused and trying to fix/prevent them from occuring.The show could also act as a sort of reverse life on mars or ashes in the way the back in time cop showed the social problems of that era the cop from the future could look and highlight the problems of today.