How do I make friends?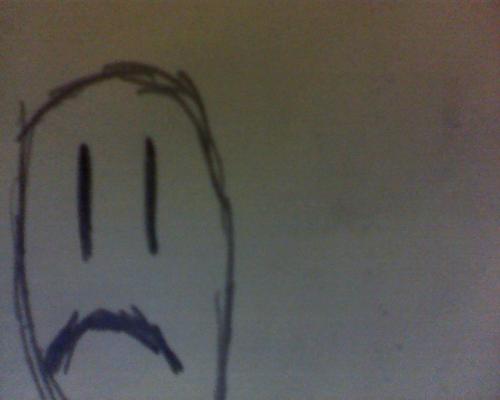 Philippines
July 20, 2012 4:29pm CST
..........

..... I have no friends in this world..... I have no friends in this world except my family of course. I used to have friends... but they're all gone. I see and hear people that have many friends but I can't make my own friends...

I have no one to talk to in this world... (except my family) I added people I know to my Facebook but they're not my friends or they're not my friends anymore... I don't say anything to them... they don't say anything to me.... So I log in to Facebook everyday for nothing... I don't do anything there.... There are no friends there.... There are no friends anywhere!

I see people I used to be friends with and just smile or say "hello". But it's feels different when I talk to them.... Unlike when they were still my friends it was so easy to talk... But now I can't say anything but "hello". My old friends think we're still friends but we're not... It's too difficult to get into a conversation with them... It's very silent when i'm left with one of my old friends. So I come here to ask you how I can make friends..... or how can I get my friends back? I remember the fun feeling of having friends but right now that feeling is gone. I know how to make friends on internet but not in real life.... So people here with many friends... Can you tell me how? How you got all of your friends? What can I do? What Should I do?
4 responses

• Indonesia
12 Nov 12
Hi Olonam, nice to meet you. Friendship is somethings everyone have their own thing. Some people think being friend means they have to meet or talk everyday. Other people think being friend mean you have many things in common or you enjoy to talk to them. Maybe you just have your own style of friendshipness. You just to make some effort, maybe with talk about how your feeling to your old friends or spend more time with them. The most important thing is you must believe in them. And making friends can with so many ways. Just go to some random place you interested or do new things you always want to do and try to make some conversation with new people. You might be surprise. Hope it will help you. Have fun and good luck

•
9 Oct 12
Friends are everywhere. You just have to open your hearts and accept them sincerely. But, You have to be careful on choosing friends. Some will just used you or make fun of you. You can never really tell. I once had a close friend way back college. I trusted her with all my heart and then suddenly I just found out that she's just using me to get my boyfriend. I didn't know that she likes my boyfriend... bottom of this is that, me and my boyfriend ended it up and they got married because my close friend was pregnant.. and I hate it so much.. But I can't do anything about it but to accept. I still love my close friend despite of her doings. The lesson here is that, Don't get too attached to someone you just met. don't give your 100% trust. Observe their actions first and family background. Don't worry, God is good. He won't let you suffer for the rest of your life.. Time will come, A friend will knock on your door and will say hi... Just always smile and Be good to everyone.

• Philippines
11 Aug 12
I know how you feel, actually I myself once, became a loner at high school, I had no one to talk to except my family, I get a hard time finding groups when the teacher asks us to form a group and we have to decide who we are gonna be grouped with, I'm always left alone and can't find a group that consists of my friends, cause I'm the quiet type back then, and even though I've made quite a few friends in high school, it's not the same when it comes to them choosing me to be part of their group, but at the end some I considered those even slightly close to being called a friend, and I accept tasks that they might not be able to do alone, in the end when I graduated high school they became some of my true friends and still we chat now and then at Facebook, and meet in real life to do some things. Making friends is a different story at college I still got the habit of being completely silent and so I did not make a lot of friends at the beginning of college, but good thing my classmates are those that obviously makes effort to befriend me, and after a few weeks I became friends with most of my classmates. The part where I get comfortable around them started at Facebook though one on my classmates made a group that consists of all of us, so I was part of that group, cause like you I add friends that I know in real life even though I don't talk to them, at first I was still quiet but then after joining in some of our conversations in Facebook, I kind of got to know some of my classmates better. At real life I was still quite though, but every dismissal I always wait for one of my high school classmates at another class, and coincidentally some of my college classmates are waiting for their colleagues at the same class as well, at first everything felt awkward, cause firstly I am the quite type, secondly the classmate with me is of the opposite gender, and two other guys, that are my classmates as well, that I don't know well, so the two guys seem to be friends so they talked a lot with each other, leaving me and my girl classmate to be quite silent. I know her though, cause she engages in out class chat as well, so good thing she is not the shy type, so she keeps engaging in conversation with me. In the end I got over my shyness and we would talk every dismissal, while waiting for our respective friends, we became good friends as well. So here's my solution, either you try to engage a conversation with your classmates, cause by doing so you'll be somewhat comfortable with that person, and they might introduce you to some of their other peers, so you'll have more friends. I hope my story and my advice helps!

• Boise, Idaho
20 Jul 12
It sounds like you have grown and your friends haven't. I think to make friends you have to be sure you can be a friend in return. Do you like people? Or do you enjoy being alone more? If so it may be hard to keep friends because you will want to be alone and they will want to hang out. Also if you are serious about making some friends you need to hang out places where you enjoy the ambiance. If you enjoy animals take one for a walk or venture to a walking park. If you like music check out where they are playing some of your favorite. Things like this will put you in the way of others who enjoy the same things you do. And be open to these people. Eye contact and think about things to talk about. Bring them out with questions and be interested in them. Good luck to you!