proud to be asian!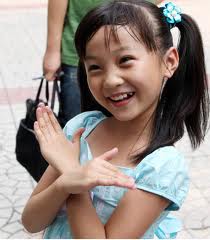 Philippines
July 21, 2012 1:52am CST
Hi mylotters. I have read many internet articles and blogs about Asians who are not satisfied of their skin color, hair color or eye color. They go to extreme measures just to change their appearance. I do not understand what goes on in their brain. I think being Asian is beautiful. We may not look like Caucasians but we look pretty in our own way. Being Caucasian is not the only way to be beautiful. I am proud of being Asian and I am proud of my color! I hope this inspires all the Asians out there! How about you, are you proud of being you? If not, what would you like to change?
10 responses

• Philippines
21 Jul 12
hi sc, I am Proud to Be ASIAN despite of my cute size, big eyes and rabbit I still wanted to be an Asian I have lot of reasons why I still wanted to be an ASIAN and I am proud of my skin color too....

happy mylotting


• Philippines
22 Jul 12
Good thing you're proud. We are beautiful in our own way :) And what do you mean by rabbit? hahaha LOL :)

• United States
21 Jul 12
Nothing! :) I'm proud of my eyes and my year-round tan, I'm happy with my diminutive facial features (nose, lips) and though I'm slim, I wanna be taller, my height is not something that will bring me down, though. I'm cool with my lineage and besides, my husband thinks I'm the prettiest woman he has ever seen so that's more than enough for me lol!

• Philippines
21 Jul 12
Hi raine! Your comment made me smile! Everyone should have the same positive outlook as you! You go girl and be proud! Us asians RULE! Happy mylotting.

• United States
21 Jul 12
Thanks savagecabbage! I admit I also went thru the awkward stage wherein everything that I see on TV are the epitome of what beautiful is. Sadly, none of these is "me", so I always thought that if only I'm like the ones on the TV, then I'm pretty. Only to realize while growing up that 3-4 people spent hours on these TV personalities just so they could look like that. As we grow older and we learn, we also become to have self-confidence (not too much, just enough) to say that we may not have a face that can launch a thousand ships, but we are definitely someone that can make wonderful guys fall in love.

• Philippines
21 Jul 12
I had that awkward stage when i was younger. I thought that celebrities looked absolutely gorgeous then later on, i found out that photoshop was the one that made these celebrities gorgeous. Haha! Confidence, self esteem and trust in ourselves are what we need to overcome these petty insecurities. I hope all the girls would think like this! your husband is very lucky to have married a proud and confident woman like you!

• Philippines
21 Jul 12
I am proud to be one as well. I am a 9gagger and I can see how Western people address "Asian Level" because of many amazing things that Asian people can do..

I am proud of my color and my pretty eye color


• Philippines
22 Jul 12
Good thing you are proud! :) keep it up! Let's go Asians


• United States
21 Jul 12
You should be very proud to be Asian!!!! I am very fond of Asian pop culture, everything from anime and manga to Korean Dramas and music (LOVE Galneryus and Shinee). I think Asians are beautiful people! I'm a woman and think that Asian men are extremely handsome. However, it is said they are bossy so I don't know if I like that or not (I had a dad growing up, don't need another parent, LOL), but who knows, it might not be true, like so many other things are not. But yes, Asian men are gorgeous. As for the ladies, I find them attractive as well. The only reason that Asians might not see themselves as attractive, is that Caucasian has a little more variety in coloring of sking and hair and eyes, so we can all look different, blonde, brunette, etc. Asians might be looking at whites in that light. But if an Asian lady is thinking that she is not as pretty, she should realize that most white women look at the Swedish female as the high standard, and most of us cannot meet that. So it's the same all around. In other words, for us women, there is always a standard we cannot meet. If an asian lady sees herself as not as pretty as a Caucasian, she should know that there are plenty of white females that see the Swedish female as out of their league. So, it's with every culture. Just the way it is. Asians are extremely beautiful people, their fashion sense is awesome, beautiful skin and extremely talented actors and musicians. Must to be proud of if you are asian!!!!

• Philippines
22 Jul 12
I have never thought of it that way. i did not really know that Caucasian women are insecure of being Caucasian. I guess you are right. Everyone wants to be better. Everyone wants to be the prettiest they can be so they dream to be prettier than they are now. Thank you for supporting us Asians. I believe that everyone is beautiful and handsome in their own way. i also love watching korean drama and listening to korean music even though i do not understand what they are talking about. :) Thank you for your support and for your response :)

• Romania
16 Oct 12
Hello! I think that the skin colour doesn't make the difference. I think the way you know to act and how you behave in society really matters. Also, your knowledge and your personality should highlight you. I know that because I'm from Romania and I'm sure you heard about gypsy people. I have a slightly darker skin and I'm usually compared with them when I'm a little boy. Now, when I grown up, I know that my behavior, the way I know to talk and, not at least, my knowledge, make the difference. I'm not a racist, but one of gypsy people surpassed all limits. Now, many people asked me if I'm from Arabia. Ha ha ha. That's anoter part of the story. In conclusion, everybody needs to be proud with himself, with his knowledge and his mind. Have a nice day!

• Philippines
16 Oct 12
I am proud of being an Asian too. I am proud of my skin color and our facial features especially the eyes. I think we have the most beautiful eye shapes. Asian eyes look cute to me. And of course Asian look way younger than their Caucasian counterparts!

• Philippines
30 Sep 12
I'm proud to be asian. Our numbers of having an asian look can be count. But in the other side. The satisfaction of things is being curious of it. And I think it is normal to asian like us. Happy myLotting!

• Delhi, India
21 Jul 12
Hello savagecabbage, I am an ASIAN and my skin color is dark but that's not a problem as i can't do anything with it

.But i think what would have happened if my skin color was white it would not have effected me much,i would be thinking like same as i think now

.I am proud to be an ASIAN i like my skin and eye color.


• India
21 Jul 12
World wide peoples are appreciating asians work not for their beauty but for their dedication in the work until it turns in the way they want.Today asians are in the leading positions in information technology fields.Asians not only have brains beyond that they have the tendency of helping others and concentrating on updating their skills.

• Kochi, India
21 Jul 12

In every race,there are some pretty ones and some not so pretty ones. Skin color?Hhaha The whites consider tanned people, prettier.Thats why most models are from Brazil.I think Asians look the cutest.Its very hard to guess their age.Hey Jacky Chan is the most popular guy in this world.

But there are lot people in Asia,who are not 'Asians'.So..