have you seen this one?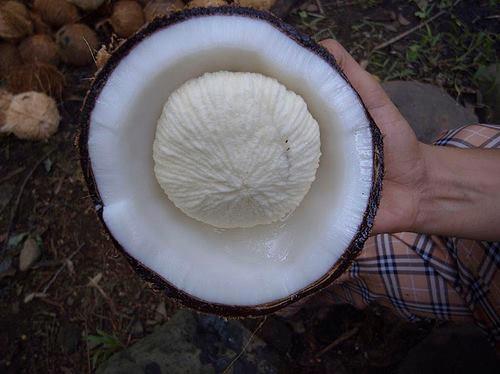 Philippines
July 22, 2012 7:10am CST
In my childhood days..There are a lot of this one in the coconut field in our place. Have you seen this one too? have you eaten this one too? it's delicious and has a unique taste I tell you...how do you call this one in your own dialect? We call it "bot-bot" or "buwa" in Cebuano...
6 responses

• United States
12 Apr 16
I was going to say that I thought there's something wrong with that coconut, but I see that someone says its germinating. Wouldn't matter to me, don't like coconut. Oh, I might have to learn to gag it down if I were stuck on a deserted island, but otherwise I won't eat them.

• India
14 Aug 12
I have that in my garden too and I like its taste.The coconut however loses its taste if this is found. This is the process of germination.

• Legaspi, Philippines
5 Aug 12
My grandfather had a coconut farm and we used to go there during vacation. My grandfather would surprise us with this "tubo" as we call it. Yes it's really delicious and seeing this picture makes me remember my childhood days. Oh, your make me cry pearlee. I miss the days when I don't have problem yet and I just spend my time playing. Unlike now, it seems that every problem of the country is my problem also. But that's just it, life is what we make it. Have a nice day!


• United States
22 Jul 12
OMgosh I know this! I always spend my summer break at my grandparents' farm and we have lots of coconut trees. Whenever it's harvest time, they will pile the coconuts separately depending on types and then there are piles where coconuts with this thing on it. They told me it's delicious and it's edible but I know I refused to taste t because when I asked what it's called, it sound so funny and gross. I have no other dialect but Tagalog, and I forgot what it's called. LOL!

• Philippines
22 Jul 12
Welcome to Mylot Pearlee! I have tasted this one also but i never knew what they call it until you posted this. Thanks for the info!

• Philippines
22 Jul 12
hi pearlee, I love this one we call it BUWA also until today if I see this I ask them to give it to me

I think most children who stay their childhood days in province experience to see or to eat this one. They also call this Coconut apple. happy mylotting