Crazy Cat Antics!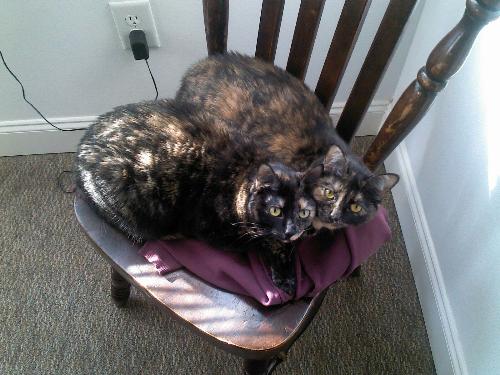 United States
July 25, 2012 10:24am CST
I have two 3-year-old cats, Pixie and Brownie. They are adorable as can be, and I love them to pieces. However, they have some crazy antics that just make me scratch my head. Pixie, the one with the stripe on her nose in the picture below, is our resident drama queen. When she is hungry she will rub up against me or my husband and cry loudly as if for attention, then run off to her food bowl and flop dramatically on the floor, like she's starving and hasn't been fed in weeks. She also plays fetch with her toys like a dog, and likes having her belly rubbed. And when you try to pet her without her first asking for attention, she will go sit under a table so you can't reach her. Brownie, the smaller one with the bisected black/black-orange face, she's our spasti-cat. She will, with no provocation, jump up and run laps around the apartment. She also stalks her sister, ready to attack her when she is done using the litter box. On multiple occasions I've walked by her and she's reached out and 'grabbed' (stuck her claws into) my clothing making me stop and pay attention to her. Brownie doesn't play fetch like her sister, but she will play catch. If you throw something small at her she will do her best to catch it between her paws, or slap it to the ground in front of her so she can pick it up with her mouth. She also paws at the carpet around the water bowl before she takes a drink. They both roll over on their backs when they want attention, and steal our seats within 30 seconds of standing up. They are both very vocal, and both only want attention on their own terms. And they LOVE the laser pointer. It's probably their favorite toy. How crazy is your cat?
1 response

• United States
25 Jul 12
I wonder if all cats do the crazy run-around-at-nothing thing. My cat usually chooses to do the galloping around in the middle of the night. I can see her looking at something that I can't see and with her ears laid back, she'll run the length of three rooms and back. What is she seeing? I ask, but of course, she doesn't reply.