Did you ever tried to live in an isolated area?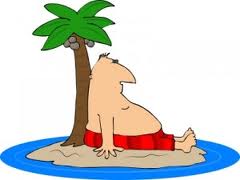 Philippines
July 29, 2012 6:55am CST
I had my mission in Central Asia, experiencing the life of being isolated. The country doesn't have the capacity to offer luxurious life as seen in my own country. Figuring out on how to survive to a place without the modern technologies. The life was so backward, but I managed to survive by my own initiatives. It is like living alone in an island. Can you survive in an isolated area?
7 responses

• Philippines
4 Aug 12
I never tried to live in an isolated place. But I experience to live on my own adapting to people who aren't blood-related but in work. I feel really awkward on that situation. I always catch myself to be alone. The only way I talk is thru texting. Keeping in touch to my friends and blood-related. My officemate always catch me giggling and laughing while texting. They almost think I am already gone crazy but I not.

• India
31 Jul 12
Hi friend, there is nothing wrong in living this kind of isolated area, we don't have more responsibilities and no friends in an isolated place, it will be better if we keep our smart phone in our place and don't take it to the iso0lated area, we will enjoy the nature a lot

• United States
30 Jul 12
I think it would be rather easy to live in a world without modern technology, I mean survived Child hood correct?! It would be different of course but i think it would be a wonderful experience.

•
29 Jul 12
I live in quite a quiet area at the moment, but it isn't to the extent that I can't access any kind of internet. In the past when I have been travelling, I have been in places like that and I have to say that I quite enjoy them for small periods of time at once. I don't think that I would like to ever live in a place that was isolated, however it is nice to be able to spend at least a small amount of time there because it gives you the chance to think about things that you normally don't have the time to think about in your day to day life.

• Philippines
29 Jul 12
The people who used to lived in isolated area are the one who are not used to the things we have here in the city that's why even without them they can survive. But I think I can too if I will be the one who have the chance to lived there, it is only technology and material things. The important thing to survive is food and shelter.

• Philippines
29 Jul 12
i live in the city all my life but i enjoy going to countrysides with a few of my friends. the place is very backward, no modern technology, no light posts so its really dark at night, you need to do a lot of walking in order to go to different places. i like the place, but i can survive it only for a week or two, i think. after that its always nice to be back in the city.

•
29 Jul 12
I'm not sure if an immersion counts but that is as far that I went living in an isolated area. When I was a student we go to an isolated area and stay there for 3-4 days. There is no electricity, no transportation. So it's pretty hard. It is like an adventure but I don't think I can survive that way of life after living in a city.