Plants vs. Zombies Musical Show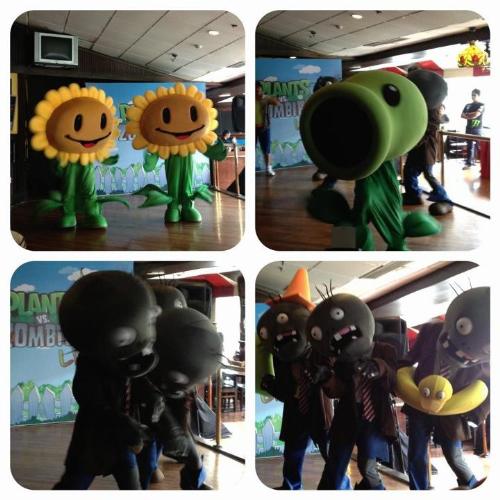 Philippines
July 30, 2012 4:56am CST
If you are an addict of the computer game, Plants vs. Zombies, you will really enjoy the musical show. Or should I say, though you're not an avid player, you will still enjoy because it is really very amusing! The PvZ production organized a musical mall show here in Davao. Though the show only runs for 23 minutes, you really won't be skipping a second to concentrate watching. The mascots are REALLY CUTE! especially the sunflowers and peashooters! Well, let's include the zombies, it's their first time to be called as cute too! lol. It's my first time to bring with me my 2-yo son on a show. And I can see that he also enjoyed it. I was worried at first that he might get bored and we might not finish the show and leave earlier. A hyperactive kid as he is, I never get him to stay in one place longer. But it's not what happened! He also concentrated watching. And everytime he hears clapping, he also claps. I enjoyed watching the show and I also enjoyed watching my son. After the show, he keeps on talking about it. He even memorized the sunflower song! and when he saw his dad, he keeps on pointing at the stage and said "papa, there's the zombie!" It's good also that a friend who gave us the ticket also gave me a "meet and greet pass" it is a pass where you can get the chance to have a picture with the mascots. My son seems like he doesn't want to go down the stage anymore. The coordinator kept on laughing when he saw my son resisted when I took him down.
1 response

• Philippines
30 Jul 12
where in Davao did you saw the show?? when??? my parents are really addict in Plant vs Zombie. Every time they use our computer, they only playing PvZ and always in survival part because they what to surpass the record stage/level there which is 92, this was reached by my younger sister and its so hard to surpass on it.. :) my parents only reached below 35. but not bad.

• Philippines
31 Jul 12
that's funny. even my mom became an addict on PvZ too. Sometimes she can't noticed that it's already past 2am and she is still playing with it. which eventually made her so sleepy the following day... :D That's why she was so happy when my brother gave her an Event Pass so we can have a seat to watch the show. Mine was given by my friend. At 3pm, I was with my friend, and at 6pm my Mom followed. So my son and I watched the show twice. But I still can't get over it. I want to watch it again. :) Actually you can still see it even if you do not have an event pass, just that you don't see it near, and you don't have a reserved seat. We also see to it that we sit on front rows. Unfortunately there are others who came in earlier so we only got the 2nd row. :) It was shown in Abreeza last Jul 27, 28, 29. It was 3 days and with 3 shows per day (1pm, 3pm, 6pm). Are you from Davao also? So sad you missed it.