What's the weather like in your place?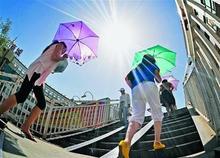 China
August 1, 2012 10:44pm CST
It's scorching hot for more than 10 days in my place. The streets under the sun generate surging heat waves. You have sweat soaking out of your clothes even when you sit in the room doing nothing at all. What's the weather like in your place? Do you have good ways to deal with hot weather?
6 responses

• Indonesia
3 Aug 12
Hi Lucy

. Its been quite hot actually. Usually we had pleasant weather and we can walk without had to sweat but now its hot. I think if in my place hot. Another place in earth will be ultra hot. I think something related with global warming, every were getting hotter and hotter. I hope its won't be disaster because farmer had to dealing with drought because hard to find water for farming.


• Philippines
2 Aug 12
In my place right now the sun showed up for awhile but still cloudy and windy outside. Since it rainy season now here in my country we expected to experience some typhoon and rain showers. I am just hoping that our weather here will be fine and the rain stop because lots of people are suffering from flood and losing their home because of the typhoon. But during hot weather I love to drink fresh juice and make my our fruit shakes and drink lots of water to refresh my body.

• United States
2 Aug 12
It has been really hot here too. I had to travel on one day for 5 hours in a car and the weather when we were starting out was near 100 degrees. It was a miserable trip. where I am now we have nice air conditioning and I just stay in doors. I am lucky for that because it would be really bad and misery if I were without conditioning in this town. I also take showers a lot in hot weather to cool off if I have to... it works Ice cream and ice water are good options for a refreshment but it will not cure how hot you feel for long.

• Philippines
2 Aug 12
Lucky for you of having only ten days of hot weather. Unlike here in the Philippines, the weather is so extreme pushing on a very high, hot temperature hitting almost 37 degrees during summer season, mean while as for today we are experiencing coldness because of Typhoon Gener in which until now is giving us a hard time going to work and doing our business.. Some towns and places were soaked in flood, some also experienced flash flood. I just hope all of my fellow Filipino will be okay and nothing harm will happen to them..