Apple iPod Touch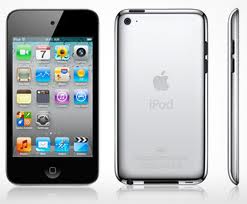 Philippines
August 14, 2012 4:50am CST
I had an opportunity to stay in USA for the whole month of June 2012 when the company I am working for sent me and my fellow associate for a training or knowledge transfer of the application we are supporting back here in the Philippines. All expense are paid by the company with allowance worth of $51 per diem, we stayed for 28 days so we have $1428 each. That gave me the opportunity to buy stuffs back there, but we were not been able to go around too much to shop so an alternative is to go shop online and my first choice, Amazon.com. The first thing that I bought, an Apple iPod Touch! I was thinking of buying Apple iPhone 4S instead but that was way expensive and I need save some dollars as well and by the way most mobile phones offered in Amazon are locked to either AT&T or Verizon, so it would be useless for me to have one when I got back to Manila. So, I need to be contented with iPod Touch and I also compared it against iPhone 4S. I guess iPod Touch has almost all the features of iPhone 4S except for calling and text messaging. I got the item for just $176 and free delivery to our hotel that we stayed in PA, USA. The first time I've checked the item, it cost $185 but after a week it decreased to $176. That's only 7,392 in Philippine peso while checking it now from various gadget store in Parksquare in Makati, this item cost 9,000 pesos or even higher. So I really got a good deal here from Amazon. Like iPhone 4S, iPod Touch also have Face Time, camera for video recording and taking pictures, you can connect to internet through WiFi and download apps (I have downloaded bunch of them, mostly free apps), it also have messaging capability through WiFi but your recipients should also have WiFi for there iPhone or iPod to receive your message,you can watch movies and of course play bunch of music over and over again. The first application I downloaded was Temple Run, a game which I got hooked when my officemate lend me her iPhone and let me tried to play that game and the list go on as I keep on downloading new apps especially for my kids, I download toddler games and puzzles which my 2 year old daughter really loves while my 6 year old son loves the games that I've downloaded so far. What I don't like somehow is that you need iTunes installed to my laptop first to be able to put some mp3s & movies and sync them to my iPod Touch unlike other mp3 players that I've tried that you will just need to copy those files to its miniSD. Also, there are particular movie file type that this item accept like Mp4 and Mov. You can't also expand the storage size because it's limited to 8GB, you just need to buy iPod Touch with higher capacity. Overall, I am still very much satisfied with this item. I can play some games while I travel going to office and going back home, I live outside the city and I work in the city and I usually on the road for one and half hour or even more. I can also just go to sleep and listen to my music while on the bus. There are still some more stuffs from this item that I have not explored yet, I am still enjoying what I really love about this item but someday I may use them and see what those features can do for me.
1 response

• United States
14 Aug 12
Congratulations for being chosen on that trip! Like you, I'm also obsessing on my iPod touch, even though it's been months already since I have it. My husband also bought it from the US and bought it back for me as a Valentine's gift. I was so happy and he will always kid me about my iPod touch just being the baby version of my iPad. Well, he's right in a way but then again the iPod is a music player just made more versatile by Apple. In fact, I cannot find a lot of differences between my iPhone, iPod touch and iPad. But honestly with the nature of our work and our personal schedules, these serve their own purpose well. You really got a good deal because the same iPod touch 8GB costs 12,000 pesos last time I check which is like a couple of months ago.

• Philippines
16 Aug 12
Yeah it was pretty much a good deal because til now the iPod touch 8GB still cost around 10000 pesos the last time I check it in the market, well I am always been happy to have this gadget as I was able to listen to my favorite music and also keeps me busy in playing some cool games and apps. My kids really enjoy it and they always borrow it everytime I am at home not working.