New clothes, but no room

August 14, 2012 2:13pm CST
Your planning a shopping trip for some of the latest styles. Before you do, you have to find some room for you intended purchases. Do you just throw them out, I know some do. I on the other hand have a solution and with a little time and dropping off items, you can have room for your new fashions while helping others. I don't only do this to make room, I also do this twice a year, just to clean out a little. You need 3 sections, donate gently worn, donate worn and consignment. Gently worn, includes all clothing just a little worn and treated nicely, no stain or rips. These items go to the Salvation Army or places like that. Worn are items that might be a little faded or, a seam loosening up. These get dropped off at any homeless shelter. Consignments, these are your great condition pieces that were a little costly. A good way to help others afford some nice pieces and you can also make a little money. Clothes thrown away are a lose when there are so many people who can use them.
8 responses

• Canada
16 Aug 12
i don't shop much but i do donate stuff that i do not wear anymore as we generally are given a lot of clothes from friends (hand me downs) which is fine as these friends always buy expensive stuff and they like to shop so getting clothes for free is good but of course, we cannot wear everything, plus, i have lost some weight so i donate those clothes that i don't wear anymore. i have been going though my daughter's closet as well and donate the stuff she has outgrown to a family in our church with younger daughters.

• Chile
15 Aug 12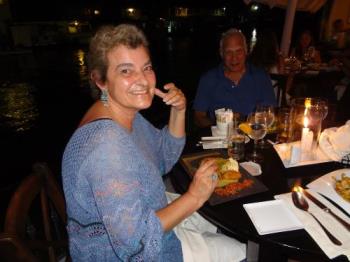 I don´t have that problem athough I would like more space in my closets because I´m a magpie. Bit I don´t buy any of the latest styles and have some clothes (and wear them) that have 20 years. Still, I manage to look fine, I think. I usually buy what I like and not what is in style. That helps.

•
15 Aug 12
I bought a whole lot of new clothes recently because I have lost weight and none of the old ones would fit me anymore. So I threw everything out of my wardrobe, and now I have lots of new clothes. I had a lot of room, but now I am finding that I have almost managed to fill the wardrobe with my new clothes so I am going to have to get rid of some of them in the near future. I will look through my clothes and see the ones that are either a little too big, or that I haven't worn in a long time, and I will choose which ones to get rid of this way.

• Malaysia
15 Aug 12
Hi Poc, i usually give my old clothes away to my relatives. But if they are unable to wear certain pattern or size, then we will donate them to the homeless shelter. There are many homeless shelter in my area here. Only after i had sorted out my wardrobe, then i will put in my new clothes in it. For me, every clothes is important and should not be wasted, we can always donate it to helps those needy...

• United States
15 Aug 12
I also do not throw away clothes. Either they go to my sister, the "for donation" bag or used as a rag if they're really beyond repair. I also decided to stop buying clothes unless I have cleared away some space for it. When I moved to this apartment, I just found out that I really have lots of clothes; half of which I haven't even worn lately. So now, no space, no shopping lol!

• India
14 Aug 12
I guess what you are doing is so very sweet Pocs. Keep up the good work. I also feel that one can donate the old clothes to those who are in need. It is a good way you divide the clothes in different categories. makes things easier. I used to give my clothes to my sister in law. I wish to give the poor also. thanks for sharing and have a wonderful day ahead. bless you.


• Philippines
14 Aug 12
I agree that old clothes should not be thrown right away. We can sort clothes like what you wrote above and that is what I mostly do. I check for old clothes that are still good to wear and donate to homeless shelter and orphanages as well.

• United States
14 Aug 12
I dont have any one to give my bottoms to only my cousin because we are the same size but she isnt a fan of getting used clothes or buying used clothes. So that wouldnt work i gve my shirts to a girl that is in high school and that likes getting clothes. I dont bother giving them to anyone else because she can use them as her family isnt all that wealthy and she appreciates anything. If she doesnt want or need them at the time i will donate to goodwill and of course keep my receipt for the end of taxes and i get money back from saving my receipt too. Its always good and i feel good donating my clothes too. It makes you feel good inside as well.