The annual flower festival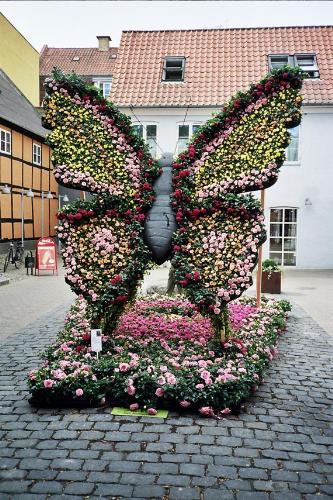 Denmark
August 16, 2012 5:45pm CST
At the moment the annual flower festival takes places on the neighbour island. I haven't been able to visit the festival this year, but I have been there in the past and the flowers are usually very beautiful. There are lots of different activities for adults and children. The adult can look at the exhibtions and get information about the different kinds of flowers and how to take care of them. They can visit the cactus exhibition, get advice about bonzai and a lot of other things. The children can listen to fairytales, watch a play, participate in games etc. There are also different kinds of concerts and competitions. Which kinds of annual festivals exist in your area? Do you visit them?
8 responses

• Anantapur, India
17 Aug 12
hi Porcospino, i think at Hyderabad some time conducted a flower festival, neither i have interest nor unlike on flowers,but i am having some relationship with flowers, i am working a gift portal since 7 years,where i have to delver flowers to the customers and some times gifts and cakes also, so i know roses and other flowers,but i have seen lot of flowers are selling by vendors on the side of the road near market at Bangalore,several times i have seen and delighted to see such huge collection of flowers for selling,but on that i am on going to work,so i could not stop and visit those road side shops,have a nice day

• Denmark
17 Aug 12
With a work like that you must have seen many different kinds of flowers. I like roses a lot, and my husband and I have roses in the front yard. Some years ago I visited the flower festival on the neighbour island, it was much bigger than I had imaged and it was a beautiful sight because the ground was completely covered in flowers in a many different colours. I have heard that they have a flower art competition this year, and it is could be interesting to see the beautiful things that people create from flowers. I won't be able to visit the flower festival in person this year, but I think that they might post some pictures online.

• Anantapur, India
17 Aug 12
hi Porcospino, thanks for the response, i am travelling bus at 8.00 am to my brothers medical shop, i have to look after his medical shop when he is out of station,my bus will go via the Kempegouda market at Bangalore, but they are available in the morning time only,after that they may sold out and transfered to the several places and several towns also, we at Kadapa getting flowers from Bangalore by bus,have a nice day.

• Portugal
17 Aug 12
There are two cities here that have flower festivals, they line the whole city with flowers and it looks great on tv, every year I tell myself next year I have to go and see the festival and every year for some reason I forget about it and only remember when I see it on tv. Festivals are always fun, be in in summer or winter, though summer seems to have more of them, there are several here though the last one I went to was a medieval festival was fun seeing everyone dressed in traditional fashion. Hope you are still able to enjoy more festivals this year.

• Denmark
19 Aug 12
Yes, I plan on going to one more festival this year. Next weekend a medieval festival takes place in my country and I going to visit that festival. It is usually a lot fun, people are dressed up in traditional clothes from that time, there is music, many stalls where they sell handicrafts and food and a lot of other things. There is very nice atmosphere at night, because there is no electrical light, only torches and candles. I like to walk around in the area and look at the different activities. It is interesting to hear that you also went to a medieval festival, and I hope that you enjoyed the experience



• Denmark
19 Aug 12
I hope that you will get the chance to visit the flower festival next February

I have the same problem as you and it is not easy for me to travel to another part of the country because of my work. Next weekend when I am going to the medieval festival I also have to work, but I am going to the festival anyway. I will go there in the evening and when I leave the festival I will go directly to work, because I have to work at night. It will be a little stressful I think, but I love this festival and it only takes place once a year so I have decided to go there depite the fact that I have to work that night.

• Philippines
17 Aug 12
Wow that's a great festival. In our city we have Dinagyang Festival. It's actually a religious festival in honor of the kid Jesus. There's a dancing competition, but it's not an ordinary dance. Dance at the sound of the drumbeat, not ordinary clothes too. AFter the competition, we have dancing on the street and people party.

• Denmark
19 Aug 12
It is was interesting to hear about Dinagyang festival, I don't think that we have that kind of religious festivals in my country. We have the flower festival that I described when I started the discussion and we also have a cultural night, the medieval festival and a couple of other festivals. The medieval festival is quite popular and people from other European countries also visit that festival. It takes places next weekend and I plan on visiting the festival in the evening when they light all of the candles and torches because that creates a nice atmosphere.

• United States
17 Aug 12
We have may festivals here. We have Chocolate fest, Pride Fest, Irish fest, Polish Fest, German Fest, Festa Italiana (sp?), kid fest, Air shows, Asian Moon, Bastille Days, Strawberry fest, Greek Fest, Canberry fest, harvest fest, church festivals, state fair, county fairs and so forth. I don't go to very many if any at all. We simply don't have the money to spare to go between food and gas and any enterance fee's we just can't afford it.

• Denmark
19 Aug 12
It was interesting to hear about the many festivals that you have. I think that I would be tempted to go a lot of those festivals if I lived in your area, but we don't a lot of money, so we would probably have to choose a few festivals that we were especially interested in. In my area we have the flower festival, the old market day, a cultural night and a couple of other activities, but I don't go to all of them. I would like to, but they all cost money, so we have to pick a few festivals. Next weekend we are going to the medieval festival that takes place in another part of the country. I have saved up some money for that festival and I look forward to going there, it is usually a lot of fun.

• China
17 Aug 12
The flower festival is really great, expecially that they have some activities for people to take part in, it must be very interesting! They even have some contents for kids? In my living place, we have a chrysanthemum show every year. We can see chrysanthemum everywhere, in the street, in the park, in the square... anywhere. But it's a pity that there are no fairytales or plays for children.


• Denmark
19 Aug 12
I also think that it is great that there are fairytales and other activities for the children. The adults like to look at the flower exhibtions, but the children don't find the flowers that interesting so it is nice that there are other kinds of activities for them. I didn't have the chance to visit the flower festival this year, because I have been busy with work, but I think about visiting the festival next year. The flower art and the flower exhibitions are usually very beautiful and it is also nice that we have the chance to learn more about the different flowers and how to take care of them.

• Philippines
30 Aug 12
That's a good thing to hear, our country has a lot of festivities. Every town has their own festivals. In my hometown, we do have "flower festival" or "Penagbenga". You can try to travel here in the summer capital of the Philippines, it falls on February annually.

• India
17 Aug 12
My end also there is festival and carnival season here. There is gonna be Bonderam which is the name of the carnival and it is on 25th of this month. It go there because my house is close to where is happens. all cars and bikes park in front of our house. And this year we are making our house open to the people and we will be selling snacks and food. There will be floats and dances and it is a competition. Our area won from last 2 years. I wish we win again this year. Later than it will be open dance and the DJ will be playing. This is for one day only. My home town in Fiji is also having friendly North festival now. My Dad called yesterday and was telling so. This is for one week. All kinds of rides will be there and beauty pageant also from different companies. It is amazing. last time on 2009 when I was at home, we had kept a stall to sell BBQ. We have a blast. My 2 brothers and their wives. Oh My God what a time we had. I miss that. This time my dad is alone there and he could not do anything alone. In the city we have flower shows. My aunty goes to buy all different kinds of flowers. I have not yet been to a flower festival. I wish I could because I love flowers and plants. I love gardening. Thanks for coming up with wonderful discussion and have a wonderful day ahead.