Am I anti social?

Philippines
August 19, 2012 6:16am CST
When I'm in college I always go out with my friends but after 20 years I found myself alone. As all of my friends has family right now. And I just don't like being visited in my house anymore. First its because I don't have a job and I don't have money and if I have a visitor I have no choice but to spend some money to buy them food. Also I don't go out with them anymore not because I don't want to socialize but its because I have no budget and I also don't want them to treat me.
6 responses

• Philippines
19 Aug 12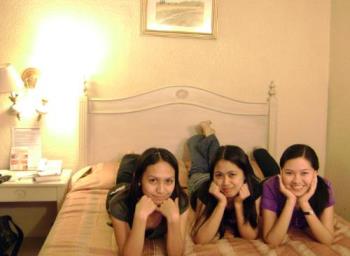 Sorry to hear about your situation but I don't think that you are being anti-social. The way I see it, I think that you are being practical and at the same time, (sorry for the term) self pitying. I also see that your pride is still working. I guess it is normal to feel that way. I actually did the same when I was in your situation. One thing I have learned in this kind of situation is that not all our friends are visiting us to have something to eat. It is okay for them to eat nothing just to see us or to be with us. If you will be a little honest, your situation will not be as tough like how you feel at present. When a friend told me she will be visiting me, I will tell her right a way that I don't have food at home so she should bring some. I don't see anything wrong about that if you're really friends. I usually that even if I have food at home because they might bring something more delicious that what I have. I also tell my friends to treat me if it has been a while since I dine out. I am no longer ashamed to do it because I know that we are friends and if I have money, they also make me pay for their food or buy something for them. We also borrow money from each other and unless we set a specific date when to return it, we don't require each other to pay for it. That is how my friends and I treat each other. We're like real sisters. Don't mistreat yourself. If they want to visit you to know your situation, be honest about it. Maybe they can help morally and financially and I think that is really what friends are for.

• Philippines
20 Aug 12
I guess its also because of my status to them. For my friends and relatives knows that some how we are more financial stable than them and that's why they also have higher expectations. They know that before we have like 10 maids in our house and each time someone visited our house its like a party. And that the tradition since our great grandfather. But time changed and all of our savings dried up. And having no jot to augment our expenses. We just end up living rich but financially poor.

• Philippines
20 Aug 12
It is hard to live in a lie. Tell them that the situation now is far different in the past. Be honest and open about it. That way, you will know who your true friends are - those who will stay despite the fact the your status now is different. Just explain to them the situation in brief to make them understand. A friend can in fact lend you a hand if you will only be honest. But don't expect too much because some may not. If you will be honest, you no longer have to worry that you don't have food to serve when they come because they would understand. And you no longer have to worry about what others may think. I don't know really how it feels to become rich so I am basing all these to my experience. I know that it is harder on your part but we have to cope up and adjust ourselves in every situation so not to hurt or make us suffer more.

• Philippines
20 Aug 12
Actually its not a lie but more like they don't believe that its really happening if you gets what I mean. Sometimes if you are just accustomed to that belief its hard for them to think that you can reach that lowest point.

• Philippines
20 Aug 12
Do not shy yourself away from people that loves and cares you. Let people inside your life. That way, you will feel good about yourself, too.

• Philippines
20 Aug 12
I guess you don't understand what my thread is all about. I'm not shying away from them and I'm not closing my door to them. Please try to spend few minutes reading and understanding the topic before replying. thanks.

• Philippines
20 Aug 12
What I meant from what I said was, if there are prople who want to be with your company,be honest to tell your situation. Coz shying aeay ,they might think that you are getting to be anti-social,which you are truly not. I have been in that same situation...

• Philippines
20 Aug 12
don't feel so sad. you have your reasons and its understandable. i think that would also be my option if i don't have money, especially if i know that when my friends go out,money would always be involved. and you're not anti-social :) in fact, you're here in mylot,discussing with us,your fellow mylot friends. be happy okay.

• Philippines
20 Aug 12
I will be happy if I have a job. lols. Theirs really nothing to be happy if you are three months delayed in your rent and your electricity bill is not in final notice along with your telephone bills and theirs also water disconnection notice. lols.

• Philippines
21 Aug 12
i think you could lend money from your parents perhaps,tell them that you are broke enough of not paying your bills.Then pay your bills and of course find a job. cut off stuffs that would cost you more,like eating in a fancy restaurant or the like. you can also sell some used clothes in e-bay. you can do online tutorial as well as mylotting :). make the best of it possible. always think about the positive energies. and i'll be praying for you to at least get a job.

• United States
19 Aug 12
I don't think you are anti social but I do think you sound depressed? It is a good thing you have friends online you can chat with, to connect with as it helps you stay connected with the world. As your situation impoves you will get out and mingle more, but right now, you have clearly stated your situation and it makes perfect sense with the choices you are making. Stay focused. Things will be better soon.

• Philippines
20 Aug 12
Thanks, Yeah, I'm down but not totally depress. I'm stress out but not totally losing my mind. What I need is to find a good and stable job.Once I'm financially stable I'm sure I will be back to normal also. This is only what I need right now. To be stable financially.

• Denmark
19 Aug 12
You don't sound like a anti social person to me. I think that there is a difference between a situation where you are alone because you prefer to be alone and a situation like your situation where you want to socialize but don't have the money to do things with your friends. Your financial situation makes it hard to do things with your friends because those things cost money. I am in the same situation at the moment. I would like to spend more time with my friends, but whenever we are together we spend money and I need to save all of my money for my trip, so I have to say no when my friends want to have dinner in town and similiar things. I don't have much of a social life at the moment, but I don't really have a choice because I really need the money for my trip.

• Philippines
20 Aug 12
I do agree. I guess having financial problem really going to end you up being anti social. But problem is that sometimes my friend told me that they don't like to invite me anymore because I don't come. Although I know they say this so that I feel guilty that I don't come. But what's frustrate me is that they just don't believe that I don't have money anymore. I guess for many years they know that I'm stable financially and they see me as someone who is most stable financially among the group.

• Philippines
19 Aug 12
OMG! hahahaha

and I thought i was alone in this situation wow!

Joy for joy that makes two of us. in fact, I've actually refused their offer to see me or be visited too. when ever my mom would have visitor, she would treat them, she has no choice of course. unfortunately for me, i got no money to treat except for a few pack of sardines...but in a serious note, we need to talk to people at least in a light manner, facebook or some guy or girl in the neighborhood. am glad you're on my friendlist buddy maybe we should put a lonely

jobless club, noh? Have a nice day

• Philippines
20 Aug 12
lols. What we need is to find source of income. lols. I'm hoping that once I started earning 50,000 pesos or about 1,100 dollars a month I will be social again. I know to some that's a big amount but our house right is already 30,000 pesos and since we are 5 in the house we really need to keep this apartment as we going to have hard time with lots of things in our house. But no money. lols.