my first pizza that i tasted

Philippines
August 25, 2012 12:09am CST
during my childhood days as far as i remember, my parent after going to the church, we went to a mall and eat there. my parent decided that is very normal to eat in a fast food always, why should try eat pizza. i am very excited because it is my first time to eat in a pizza parlor. they ordered a family sized hawaiian pizza because they do not like the taste of a hot and savory pizza but rather sweet and tangy one. my expectation is , they will order a super duper mozzarella cheese with lots of bell peppers, bacons, and sausages because this kind of pizza that i like. but since i am only a kid, i have no voice but eat the pizza that is ordered by my parents. our order is been done, i tasted the hawaiian pizza they ordered, it taste good and sweet and i like the taste of it. the flavor of the pineapple and the meats is well compensated to each other and it is a perfect combination! until now every time i ordered a pizza it is always hawaiian because this is the pizza that i first tasted...yum!
7 responses

• Poland
9 Sep 12
I think my first pizza I tried was pepperoni, it was the most popular at the time and I guess it still is. Its remained my favorite kind until now. I like meaty pizzas although not too meaty, two kinds of meat at most. For me I can never have enough pizza lol

• Philippines
30 Aug 12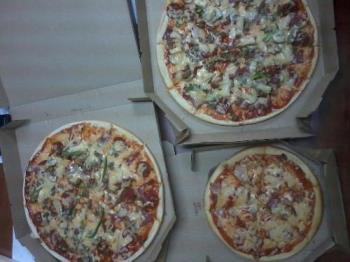 Hawaiian pizza is good because of the pineapple which add some sweetness in it. But I prefer my pizza to be topped up with lots of mozzarella cheese whether if be hawaiian or all veggies, or what. Without this, a pizza taste quite incomplete. I remember an officemate of mine who came from the remote province. She had never tasted a pizza all his life until one day we another officemate celebrated her birthday in the office and bought boxes of pizza for the whole staff. My officemate who had never tasted a pizza could not avoid but express how delighted she was after taking her first bite. Her eyes grew big, and utter "Wow, yummy, so yummy" and then jumped to everyone's delight. We all laughed at her. She said that was her first time to eat that kind of food and she surely did not forget that first time.


• Philippines
26 Aug 12
hi there! I love pizzas! My first pizza was also Hawaiian, I just love the pineapples in it. you should try other flavors, I love the one in Greenwich,its this overload thing. I also love the one with garlic and shrimp. so tasty! Happy eating!


• India
25 Aug 12
The pizza is really good with nice taste and delicious savories.have you ever tasted the nice and sausage pizza with good sauce and also mushroom.try to taste more different pizza

• Philippines
25 Aug 12
I think the first pizza that I have tasted when I was a child is my mothers home made pizza. My mother really makes delicious pizzas which i really miss. Because today if we want pizza we would just call for a delivery. Pizza are one my favorite, I live the one with green bell pepper or what we call the super supreme. I also like Hawaiian with lots of cheese and pineapple.

• Philippines
25 Aug 12
Hi akatsukipein, just like you the first pizza I have ever tasted was the Hawaiian variety. I loved it during my childhood days but as time passed by, my palate changed its preferences and now I tend to enjoy other flavors as well. Although I still eat Hawaiian variant from time to time, there are other variants which I can say are my favorites.