If someone smokes near you?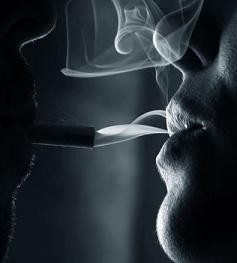 Romania
August 25, 2012 6:04am CST
What is your reaction when someone gets his cigarette and starts smoking near you?Do you attract their attention or you quietly walk away? I am asking this because passive smokers present the same or even bigger risks than normal smokers.This gets even worse if you are already smoking. I personally walk away,I don't want to spark any dispute with someone who decides to do that thing. The only time I stay with someone that smokes is when I go out with my friends.I don't feel like changing the table if one of my friends starts smoking.Luckily,I don't go out that often. Knowing these risks,how do you cope with someone that starts smoking near you?
8 responses

• Philippines
27 Aug 12
These things you are talking is so factual. Passive smokers are more in danger than those who used to smoke. Yes it is very very irritating with those people who doesn't smoke in proper place, so irresponsible. What i am doing if smokers are around me is that i keep a distance from them , a distance that smoke won't reach us.

• Romania
27 Aug 12
What is bad is that,usually,people who do smoke in proper places are that type of people who won't understand your concern for your safety.I strongly suggest if you see people smoking in improper places,and if this affects you,just to leave and let that person be.I,personally,don't want to get involved in arguments(or even worse) for things like this,although this brings a huge risk for public safety.

• Philippines
25 Aug 12
it's irritating but just can't react what I really feel. Walking away like what you do is sometimes my usual act too but most of the times especially when I can't walk away like the one smoking is your co-passenger, I just cover my nose with a hanky. I don't care whatever that smoker thinks.

• Romania
25 Aug 12
This seems to be the best strategy combating the effects of passive smoking.I mean,if the man gets upset that I am covering my nose,it would be hilarious to hear his explanation. One time,I tried to cover my nose,and the smoker got angry that I was covering my face...I tried to tell him I don't want to inhale his smoke.He then replied "What?Are you kidding me?Did you see someone getting any illness from breathing that?".I,surprised to say the most I said "Yes...quite many of them.And many of them don't smoke." "So how did they get it,wise guy?" "They inhaled it from people who smoked." He laughed or about 30 seconds,and puffed his last smoke on me. I am buying a mask.If someone asks me why,I tell him I have a very contagious illness.

• Philippines
25 Aug 12
On my experience, I walked away from the person smoking, but when I have no choice and we're on a crowded place and no where to go, I will cover my nose and mouth with my handkerchief or with my own hand.

• Guangzhou, China
14 Nov 12
I am a non-smoker and the smoking does annoy me. And it is terrible to be the second hand smoker. So if someone who I don't know smoke nearby me, I will feel annoyed. If it is in the public, I will even ask him not to smoke. I am tough in this aspect.


• United States
27 Aug 12
If possible, I just walk away. If I'm in a closed area where that's not possible, I do ask the person not to smoke around me. I tell them that I am allergic to smoke. That's kind of true. It interferes with my breathing. It has helped that my state ow outlaws smoking in public places such as restaurants, bars, etc.

• United States
26 Aug 12
i don't have much choice. my mother's a smoker, my roomate is a smoker. my best friend is a smoker. my husband is a smoker. my best friend will go outside to smoke if the roommate and husband aren't home. the roommate hibernates in his room with the door closed 90% of the time. if he's in the room playing video games, the window will be open. when my husband is home, he tries to smoke minimally in the bedroom. but overall, it's all around me so unless i want to move out of the house and divorce him, i'm stuck.

• Philippines
25 Aug 12
hi..!! you are right. non smoker are high risk than who are smoking. i experience it sometimes if i'm in the house of my cousin because her father is a smoker since 2003 if i'm not mistaken. when i'm in thier house i always told my uncle to stay away from us if he won't we walk away with my cousin.