Cats know RAPING!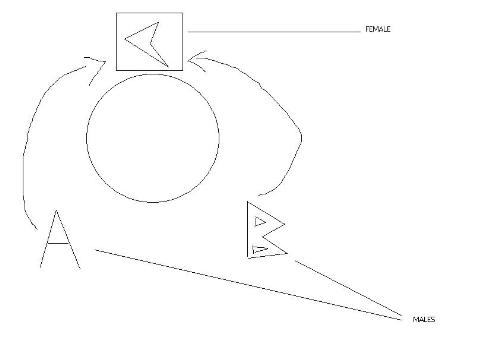 Canada
November 21, 2006 9:17pm CST
This is weird. Even though no one will believe me, I know what I saw. SO there's this cat back in Lebanon. Another cat had a crush on her. So one time I was watching the female. Then the male comes with another cat. As you can see in the picture below: The big circle is a bush. Now cat A went from one way around the bush, and cat be went from the other. The female was now surrounded. Cat A approached the female swiftly , and jumped on her. Once I saw what he was doing, I took a broom and scared him away because I loved the female cat (as a pet LOL). I know what I saw, and if you don't want to believe me, don't. But what do you think?
1 response

• United States
1 Jan 07
I have seen that happen, I was on my porch one day it was a cat on this porch across the street. next thing you know there are about 10 cats after this one female cat. 2 or three of them had her. I don't think it was rape, this cat liked it. because she didn't go anywhere. I thought, to myself this is a little tramp cat.