a cough bottle..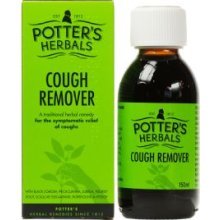 September 21, 2012 6:07am CST
There is a lot to be said about herbal remedies! Don't get me wrong I know obvious natural is best for you, but come on, plants and seeds etc? it may be better for you but surely something that is man-made to target that specific problem is going to work better? That's what I always believed anyway.. until this week. I have been sick from last week, in fact I have been sick for about a week and 3 days now. the symptoms I had, being sick, headache, tiredness, sore throat etc have all nearly gone away, but my cough is still quite bad. I know it doesn't help that I'm a smoker, so those of you who know that, no lectures please lol! I tried cougheze tablets, cavonia medicine, menthol medicine, generic brand cough syrup.. and nothing worked. It relieved the tightness in my chest periodically, but it didn't work. Then my partner went into our local health store and bought something called a "Cough Remover" .. even the name annoyed me. To remove ones cough? Hardly plausible. Well plausible it may not have been, but work it did!! this little bottle of herbs worked, and my cough was gone within 24 hours. I am now a changed woman, and will be contacting my local health centre first from now on! What do you think of this?
4 responses

• United Kingdom
22 Sep 12
A cough, like a mouth ulcer, will usually go away on it's own...eventually. Most cough medicines are only treating the symptoms and not the cause. I know you don't want a lecture, but you need to stop smoking. A cough is the least of your worries if you continue to smoke.

Just remember - [i]"It's not the cough that that carries you off It's the coffin they carry you off in!"[/i]



• United Kingdom
25 Sep 12
Yeah, why not try the hypnosis technique. You will feel much healthier and wealthier without the cigs. Just don't wear a low cut top so you don't end up hypnotizing the hypnotist.


•
26 Sep 12
ohhh and there it is, always the smut with you haha!

•
26 Sep 12
and sexiest too come to mention it, the hypnotist MAY be a woman!


• United States
22 Sep 12
It's absolutely true. I found out about 15 years ago that natural products work as extrememly well, many times even better than man made products. I have used natural remedies ever since then. I seldom get sick and my arthritis has gone away (I think). If you're interested in natural remedies here's a very good link www.earthclinic.com It's full of information.


• United States
24 Sep 12
You're welcome. And thanks

for commenting. I
do
appreciate it! I get very happy when I see someone who's enthusiastic about natural remedies. Most people I know think I'm some kind of a nut.


•
26 Sep 12
hahaha, well i do think your a nut but i like it :) no i'm kidding lol.. no i love finding new people that are into things i'm into. especially if they are new things for me and i can learn from people!!


• United States
21 Sep 12
Oh I totally agree, I always try to use the most natural product because that is what it is there for. Plus, do you know some "man-made" remedies use natural plants in their ingredients? Not only are plants and herbs better for you when you are sick, but also the best prevention around.

•
24 Sep 12
Well thats what I have since found out, that the man-made products contain nearly everything the natural remedies do, only with some chemicals thrown in for good measure! I will def be trying more herbal things from now on!


•
24 Sep 12
I think Doctors are next to useless to be honest lol!